GEP is a very active member of the World Economic Forum (WEF), and supports the organization through two primary initiatives:
Driving the Responsible Use of AI in Procurement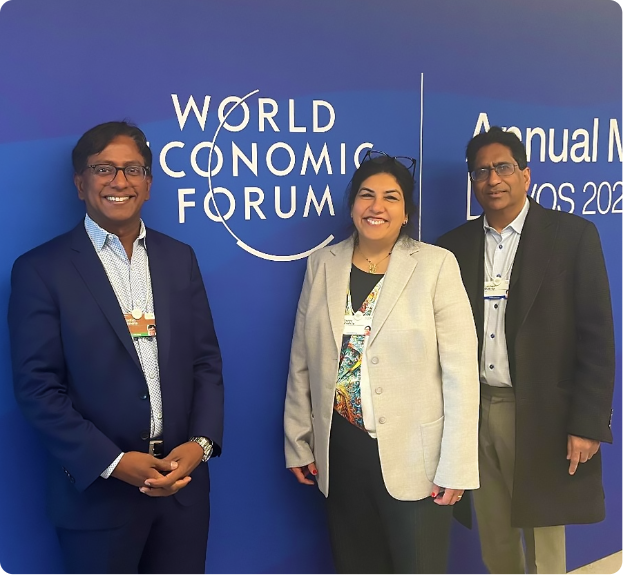 GEP joined the WEF to work with global business, government and technology leaders to shape how global supply chains foster sustainability, inclusivity, diversity and equity.
As a foremost provider of AI-driven supply chain and procurement software and strategy to Fortune 500 and Global 2000 enterprises, GEP is leveraging its expertise to lead the WEF's initiative to create clear guidelines and tools for businesses on how to apply artificial intelligence (AI) ethically and responsibly in commercial procurement and supply chains.
The next three to five years are pivotal in how AI and machine learning will transform how companies source suppliers and manage their complex, multi-tier global supply chains, which were built to be cost optimized.
Today, global companies are rapidly deploying AI in procurement to improve their supply chains. Yet without proactive private-public leadership to inform companies about how to evaluate and utilize AI in procurement responsibly, AI can dehumanize decisions and inadvertently promote biases and ethics issues along with concerns like environmental waste, CO2 emissions and inequality. A holistic approach that emphasizes considerations across the spectrum and provides a balanced framework is the need of the hour.
GEP is leading WEF's task force on Commercial Procurement of AI Solutions comprised of 25 companies, including BP, Dell, Hitachi and Huawei, to provide a set of guidelines and a toolkit that will help organizations develop algorithms that can assess suppliers, identify risk, predict disruptions, optimize costs and meet their environmental and social goals.
Coming by June 2023, these guidelines and toolkit will:
Provide a holistic framework for promoting the responsible acquisition of AI, covering commercial uses, how to manage risks and how to use AI ethically
Serve as a general, industry-agnostic, guide to the AI acquisition process (including supplier landscaping, critical stakeholder determination, supplier evaluation framework and decision-making)
Enable decision-making while balancing business needs with social and ethical responsibility through an objective supplier questionnaire-based promoter index development and evaluation
Provide a framework for collaboration, bringing key stakeholders together
GEP at Davos – Advancing Sustainable Supply Chains
GEP has a deep commitment to the environment and joined WEF to further the cause of sustainability.
GEP hosts an annual private roundtable discussion for leading global executives to share best practices and tangible solutions to address the environmental impact of their supply chains.
At the 2023 World Economic Forum in Davos, GEP gathered two dozen leaders from multinational organizations including Bayer AG, Chevron, HPE, Merck, Procter & Gamble, S&P, Unilever, the U.S. Department of Defense, and Volvo Trucks, to discuss:
Where should companies focus immediate efforts to reduce scope 3 emissions?
How should businesses collaborate across the supply chain to increase transparency and resilience?
How can companies leverage global supply chain advantages while decreasing exposure to risk?
Our discussion, moderated by Economist Impact, enabled participants to share how they're accelerating adoption of EV fleets and securing cleaner sources of energy, using biodegradable and paper-based packaging and standardizing sustainability metrics to track suppliers' scope 3 emissions.