Features of the GEP SMART Unified Procurement Software
GEP SMART is a procurement software application — native to cloud, touch and mobile technologies — that has been designed for today's procurement professionals who demand greater usability and accessibility. It leverages the power and scalability of the cloud to offer a single, digital workspace for all concerned stakeholders. The platform's mobile-native design is right for a world where professionals are increasingly untethered from their physical offices — enabling them to source, procure, pay, and effectively manage the entire procurement planning process from wherever they are working.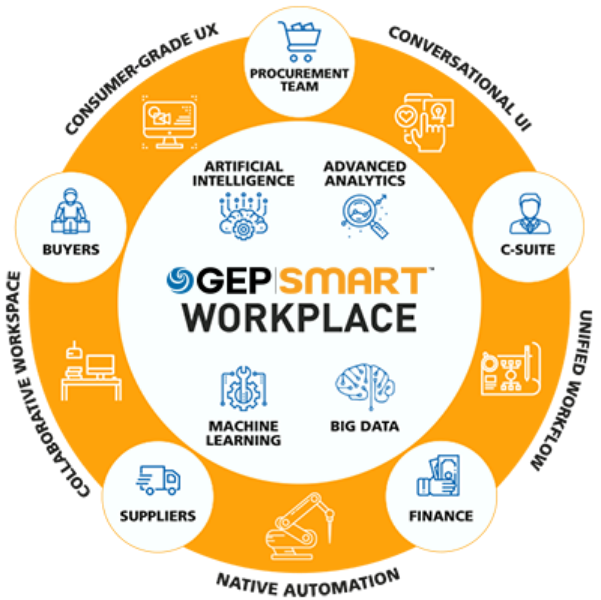 Built in the Cloud
GEP SMART procurement software is expressly designed, engineered and purpose-built for flawless operation in the cloud — unlike other solutions that are awkwardly adapted or ported to the cloud. It leverages the scalability, power and security of the world's premier cloud infrastructure, Microsoft Azure.
Native to Mobile
GEP SMART is a mobile-native procurement platform that is powered with complete apps for iOS and Android devices. Easily access dashboards and reports, take part in sourcing events, and review and approve orders, all on the go. GEP SMART is Procurement on the Move™
"Consumerized" Digital Work Environment
GEP SMART has an intuitive design, stunning visual appeal and intelligent interfaces. It enables fluid and natural movement from task to task and drives the ability to work on any platform. Designed for simplicity (but never oversimplified), it supports role-based user ecosystems tailored to the precise requirements of varying user types and use cases.
Artificial Intelligence (AI)
AI is revolutionizing business processes across all functions. The innovative AI capabilities that are built into GEP SMART execute processes across the source-to-pay operations spectrum — from spend analysis and sourcing to purchase order processing and invoice management.
Robotic Process Automation (RPA)
GEP SMART leverages the power of RPA, incorporating AI and machine learning to perform repetitive, conventionally time-consuming tasks and freeing procurement team members to work more strategically.
Big Data Analytics
With GEP SMART, procurement organizations can perform ongoing as well as ad hoc analysis to take control of data, unlock its real value, and gain insights that enable better planning and effectiveness.
The Benefits – Why GEP SMART Procurement Software
Unlike most e-procurement software suites, GEP SMART doesn't just help you work faster — it accelerates digital procurement transformation. The perfect combination of easy-to-use procurement analytics tools and streamlined process management capabilities make it a user favorite. Here's why your people will simply love using the award-winning procurement software, GEP SMART: 
Better Economics
GEP SMART procurement management system is built entirely on the Microsoft Azure cloud platform, which not only ensures world-class cybersecurity but also erases the need for additional IT infrastructure, integration, personnel, support or maintenance costs.
Increased Savings
GEP SMART sourcing and procurement management software enables realization of significant cost savings. Typical results range from 25 to 40 percent increase in savings post adoption. AI-based spend analytics help you get comprehensive spend visibility and identify additional savings opportunities.
Platform Agnostic
GEP SMART makes it easy to leverage your existing investments and infrastructure as it works seamlessly with SAP, Oracle, JD Edwards, PeopleSoft and all other major ERP and finance or accounting systems.
Proven Best Practices
Enjoy easy access to a rich, perpetually updated repository of field-tested, best-practice processes and workflows, checklists, scorecards, templates and tools for every situation or objective.
User Satisfaction
Intuitive, easy-to-use procurement tools flatten the learning curve, increase adoption and compliance across the business, and sustain use over the long term.
Superior Multilingual Capabilities
GEP SMART has extensive multilingual capabilities (all major European and Asian languages), critical for globally-networked businesses and their complex supply chains.
GEP SMART Procurement Software – Functionality Overview
GEP SMART differs fundamentally from other procurement software suites in that it is one platform, one database and one collaborative workspace built specifically for strategic procurement. It's the first "e-procurement" software designed according to how sourcing and procurement professionals really work. Regardless of what device you work on, GEP SMART procurement software is easy to deploy, learn and use, and negates the need for extensive training. Take a look at some of its underlying functionalities that simplify all strategic procurement activities:
Spend Analysis
Savings Tracking
Sourcing
Contract Management
Supplier Management
Procure-to-Pay
Spend Analysis
Savings Tracking
Sourcing
Contract Management
Supplier Management
Procure-to-Pay
"GEP SMART enabled us to have everything centralized in one place. Our users love the GEP SMART platform; it's user-friendly and intuitive, and even the most senior leaders in the company appreciate its ease of use … they see the results, and are very happy with the efficiency and effectiveness of the solution."
Frequently Asked Questions
GEP SMART procurement software seamlessly integrates with all major ERP or back office systems to streamline and automate the end-to-end procurement process – from spend analysis and strategic sourcing, to contract and supplier management, all the way to savings tracking. Natively built in the cloud, it offers unmatched flexibility, security and scalability through a unified, user-friendly digital platform that boosts adoption and productivity.
Yes. The GEP SMART procurement software can work with any F&A or back-end ERP system, such as SAP and Oracle. It can be easily integrated with both on-premises software as well as cloud-based ERP systems.
The implementation time of the GEP SMART procurement suite is directly linked to the complexity and scale of client operations. Some of the key aspects that can have a significant bearing on the implementation time include the number of users (using the platform), geographical locations (the platform will be used across) and the number of functions (the unified source-to-pay platform will enable).
Unlike other platforms that are not optimized for user experience and are complex to navigate, GEP SMART enables an out and out user-friendly and easy-to-navigate experience. It's intuitive design and intelligent interfaces aid quick learning and adoption, thereby limiting the training efforts to a bare minimum. Read more about GEP SMART's user-centric design
A significant level of customization is possible with the GEP SMART platform. It can be configured to meet customer-specific requirements and use cases. Our technology experts work toward understanding your business needs and accordingly provide the necessary configurations and workflows to customize GEP SMART.
GEP SMART is designed to make working with customers a seamless experience. Here are its top three benefits to suppliers:
Single version of the truth: Suppliers and customers log in to the same system ensuring everyone gets the same view of the truth.
Self-service portal: Suppliers can easily update profile and/or product information, participate in sourcing events, perform negotiations and issue invoices, among a host of other actions.
Better interaction: transparent buyer-supplier information exchange improves collaboration and promotes stronger business partnerships.
GEP SMART is native to the market-leading Microsoft Azure cloud platform that provides unmatched data security, scalability, responsiveness, uptime and performance along with easy implementation and timely, topnotch maintenance support – helping improve the effectiveness of your procurement process.
GEP SMART channelizes the full transformative power of new and emerging digital technologies like artificial intelligence, blockchain, RPA, big data analytics and IoT to deliver high performance and next-level results.