Being the sourcing specialist, GEP understands the importance of having the right market intelligence — at the right time — for sourcing-related decision-making. Access to timely, accurate and actionable supply chain intelligence is a huge strategic advantage. Not having it exposes firms to sizeable sourcing-related risk.
GEP's category-based supply market intelligence (SMI) team comprises 150-plus experts. It supports CPOs and procurement professionals from market-leading enterprises worldwide, and GEP's own procurement consultants, through custom-configured procurement research deliverables and engagement models.
Procurement-Focused Market Intelligence Offerings
Procurement professionals can make confident, informed decisions when insights are tailored to their industry/geography/scale. Our procurement market intelligence reports give you real-time insights, and your team gets a decisive competitive edge when confronting big questions and problems, such as:
Supplier Intelligence: Am I working with the right suppliers? What levers can I use to negotiate a better deal with my incumbent suppliers?
Pricing Intelligence: Am I paying the optimal price?
Sourcing Intelligence: Do best-in-class companies adopt a different engagement model?
Procurement Intelligence: What benchmarks can I include as part of the contractual terms?
Competitive Market Intelligence: How are my peers sourcing? What are they doing differently?
We also know there are times when you need a quick overview of a spend category, along with a quick snapshot of the supply market analysis. GEP's SMI team is ready to fulfill these requests with off-the-shelf procurement reports (category dossiers) on numerous mainstream categories.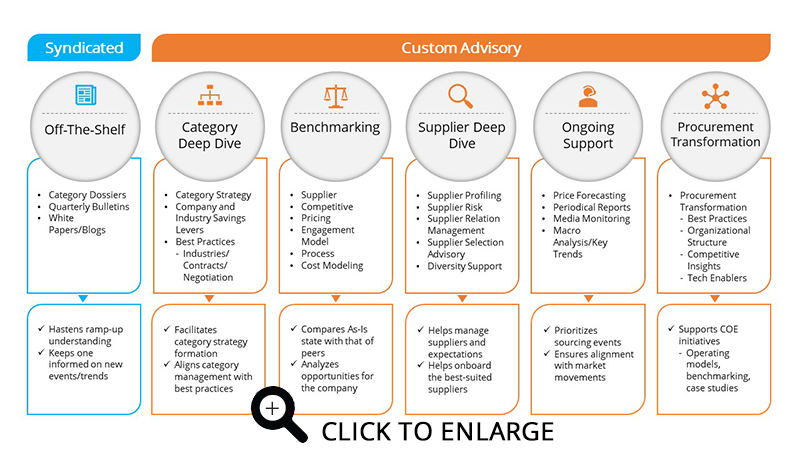 Syndicated Research
GEP's market intelligence (MI) team offers category intelligence on several hand-picked topics that represent critical concerns for clients across the spectrum. Our off-the-shelf procurement research reports (category dossiers) are spread across key categories, such as marketing, MRO & logistics, professional services, IT, and much more. They contain key market insights and serve as best-in-class sourcing guides for category managers from client sourcing teams.
Category Management
Drive strategic gains proactively
These research reports are updated frequently and provide cutting-edge actionable insights that clients can leverage during category strategy formulation.
Custom Advisory
Our custom supply chain research is tailored to client-specific needs, and research output is based on factors such as client industry, scale of operations and region in scope. Research requirements incorporate each individual client's current positioning and sourcing plan.
Unique Research Levers
GEP combines its vast procurement expertise and a plethora of primary and secondary research levers to give clients quick access to accurate and powerful market intel.
GEP's market researchers take advantage of their relationships with internal sourcing teams that procure a growing number of products and services on behalf of our clients. You won't find any other market research firm with access to 1000-plus sourcing analysts with rich sourcing experience and marketplace intelligence across multiple spend pools. This allows us to deliver greater depth and on-the-ground information in our research reports, at much greater speeds.
Our category-aligned research organization has proactively built expertise on a wide set of direct and indirect categories. This specialist model allows us faster access to business intelligence in supply chain and helps us produce results with greater speed and accuracy than our competitors can.
We are firm believers in primary research and its ability to create more actionable and customized insights for our clients. In addition to our access to extensive secondary data sources, we connect with multiple category experts from different backgrounds (buyers/suppliers/consultants) to build our own unbiased point of view.
Within GEP, our Category Advisory Groups (CAG) and Technology Advisory Groups (TAG) focus on specific spend areas — marketing, professional services, IT, packaging, chemicals, MRO, directs, and more — and have participation from across GEP BUs including market intelligence, consulting, and spend analysis. This collaboration framework generates unique perspectives that we proactively share with our clients.
Our unique positioning in the market as an end-to-end sourcing support provider, and our noteworthy relationships with suppliers across myriad categories, help us bring supplier market intelligence, in its true and undiluted form, to our clients. In addition to market information, "sourcing-rich" deliverables like contracting best practices, KPIs & SLAs, and negotiation toolkits are other specialties of ours — unlike our peers, who are mostly niche market research firms.
GEP leverages its global footprint across key sourcing hubs — such as China, Costa Rica, Mexico, and the Czech Republic — to provide non-English and localized MI support. 
To initiate a conversation with GEP's Supply Market Intelligence and Advisory experts, contact us today.