Pharmaceutical, and life sciences enterprises face a dynamic future. New breakthroughs in drug development, technological advancements and globalization represent distinct opportunities.
However, the severe decline in R&D efficiency — evidenced by the shrinking number of new drugs brought to market relative to actual R&D spending — has been a major challenge. In this environment, pharmaceutical and life sciences enterprises need to reconsider their procurement and supply chain strategy and assess the effectiveness of their technology investments. 
GEP works with numerous Fortune 500 and Global 2000 clients in this industry, constantly enhancing their total business value and their ability to focus on go-to market strategy and innovation to develop a strong product pipeline. 
Our experienced life sciences specialists work with pharmaceutical, biopharmaceutical, generics, biotechnology, medical devices and technology enterprise teams. Our expertise is in implementing value-focused, comprehensive and integrated solutions to drive profitability for sustainable long-term impact on enterprise competitiveness.
Delivering Speed, Innovation, Capability 
GEP helps clients adopt best practices developed through our engagements with hundreds of market-leading enterprises. With GEP, leading pharmaceutical and life science companies transform their procurement and supply chain organizations to deliver improved patient outcomes and gain competitive advantage. 
Our complete and unified procurement solutions focus on strategy, software and managed services to help companies build fully integrated procurement and supply chain organizations and go "beyond the pill."  
Speed
Our core value — customer delight — is what sets us apart and drives us to deliver unfailing excellence for our clients. We bring in our unique approach — Quick Turnaround Bottom-Line Impact (QTBI) — to develop and execute strategies that solve your critical business problems, with speed. Through QTBI, we have rapidly and successfully implemented procurement strategies for numerous global engagements. So whether the need is managing fast-changing supply requirements for your global R&D organization, or building a sustainable supply network for an evolving product pipeline, GEP has the expertise to accelerate outcomes and drive greater value. 
Innovation  
Insights drive innovation. GEP's experienced and talented team of specialists use their operational know-how to push boundaries and create high-performing, customized solutions for clients. 
Our rigorous understanding of the supply chain, coupled with our unmatched procurement expertise, allows us to collaborate closely with enterprises and help them cultivate supplier-driven innovation. A few such engagements include:
A 5-Point Plan for Reinventing the Pharma Supply Chain
Implementation of IoT (Internet of Things) devices at a global biotechnology client by leading the procurement processes to drive product innovation
Deployment of a best-in-class talent sourcing platform to reduce the average cycle time to identify and recruit researchers
Enabled technology-driven stockroom optimization for a client resulting in higher inventory churn while freeing up working capital
Collaborated with a client to drive early adoption of 3D printed spare parts for pharma manufacturing operations
Catalyzed the design and development of next-gen modular and flexible research labs for easy reconfiguration  
Capability
At GEP, we make the world's best companies better. Our teams augment and amplify yours, empowering you to effectively translate business requirements into rock-solid strategies that create maximum value for the enterprise. We work with you to:
Digital Prescription for the Pharma Supply Chain
A Shot in the Arm to Boost Innovation and Value
Transform procurement and supply chain functions to create, capture and sustain value
Drive risk assessment and mitigation planning for complex and geographically diverse supply chains
Enable synergy assessments and value capture in mergers and acquisitions, as well as perform transition planning for divestitures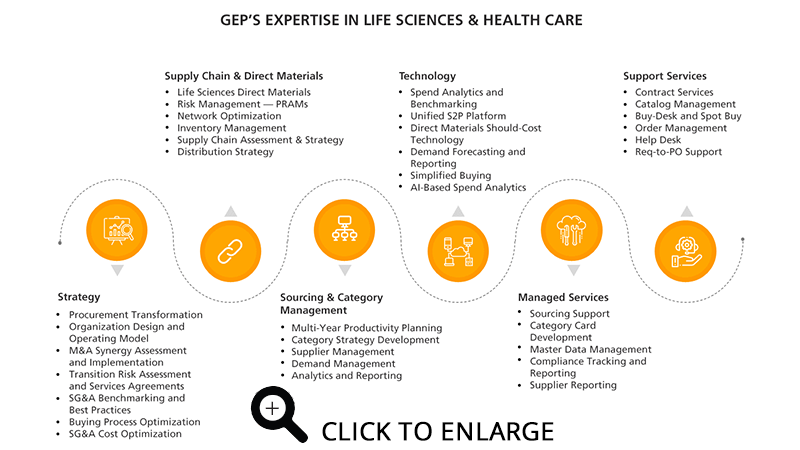 Learn more about how GEP can help your procurement organization drive greater value within your enterprise  — contact us today.
The GEP team enabled us to weather the COVID-19 crisis, and despite all obstacles, helped us transform Bayer's procurement at full speed. At a time when we needed GEP the most, its partnership and dedication were invaluable in supporting our fight against the coronavirus pandemic and in pursuing the Bayer vision of 'Health for All, Hunger for None'.

— Thomas Udesen, Chief Procurement Officer, Bayer