Long purchase cycles, delayed payments and poor cash flow visibility are all telltale signs of sluggish procure-to-pay (P2P) processes that need an immediate overhaul.
With streamlined procure-to-pay processes, procurement organizations can not only reduce paperwork and cut down cycle times, but also increase spend under management, boost compliance, reduce maverick spend and improve the overall purchasing experience — all this while delivering greater time and cost savings.
Revitalizing Your P2P Process
Our procure-to-pay services are designed to deliver breakthrough improvements in year-on-year savings, empower procurement teams to do more with their time, and drastically improve return on operating costs.
GEP's end-to-end procure-to-pay outsourcing services help you drive greater efficiency across all your P2P processes — from the point of order to the point of fulfillment and payment. We leverage cutting-edge transaction processing capabilities, state-of-the-art procurement software, and experience of optimizing procurement operations for more than 450 Fortune 500 and Global 2000 enterprises worldwide to deliver value beyond savings.

GEP has developed a unique position for itself ... for both direct and indirect spend, as well as deep domain, industry, and technology expertise.

– Everest Group
GEP's Procure-to-Pay Outsourcing Services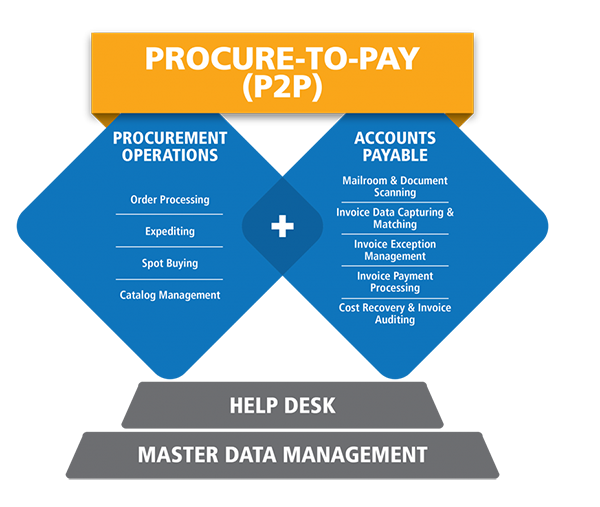 Procurement Operations

Accounts Payable (AP)
Procurement Operations
From order processing and spot buying to contract administration and procurement data management, GEP's procurement operations outsourcing services are designed to optimize all your purchasing processes.
Our procurement-focused approach and industry-wide experience help us understand even the most intricate nuances of every category and deliver the best solution to address any challenge — with higher efficiencies and savings. 
Accounts Payable (AP)
GEP helps market-leading enterprises transform and optimize their accounts payable processes. Our comprehensive set of accounts payable outsourcing services spans the end-to-end AP processes. 
From mailroom and document management to invoice processing and auditing, our services are aligned to create greater value and deliver bottom-line savings for the business by optimizing working capital and operating costs, providing greater control and transparency, and driving efficiencies through standardization.