We work with a number of suppliers with payment terms that vary with company and business unit. GEP SMART's spend analysis tool has helped us normalize our payment terms across the supply base, and drive a lot of value and savings.
Intelligent
Intuitive
Comprehensive
Mobile
Cloud-native
Best-in-class
Powerful
Game-changing
SPEND ANALYSIS SOFTWARE
GEP SMART is a huge advance from the basic, single-module spend analysis platforms that don't do much more than provide reports from ERP or AP systems. It's a complete cloud-native, unified source-to-pay suite that provides comprehensive spend visibility, in-depth analytical reporting, far-reaching business intelligence and opportunity identification.
GEP SMART lives up to its name with automated spend analysis functionality that accomplishes the critical things that make procurement teams successful:
Set spend thresholds and receive real-time spend alerts
Move from line item to enterprise view with a single click
Access in-depth analytical reporting and business intelligence capabilities
Integrate and transform source spend data from all key systems into a single data set
Classify and interrogate spend data to support source-to-pay cycle activities like spend management, supplier management and savings project management
Maximize savings opportunities based on your sourcing strategy
Leverage an array of savings tracking and savings opportunity identification tools
Log on anytime, anywhere, and from any device
What do the numbers really say?
Get detailed insight into your spend data and make informed strategic decisions using advanced spend analytics tools.
Learn more about GEP SMART spend analytics.
See What You Can Do
Customize rich, multi-dimensional reports by supplier, business unit, price variance and more
Get detailed information on suppliers with optional enrichment from third-party sources for easy vendor classification
Analyze spend across global locations with built-in language and currency support
Create, export and mail reports, charts, graphs and data extracts in any format
Get up-to-the-minute market intelligence and real-world inputs from GEP's strategic sourcing and category experts
Automatic correction of supplier information with parent/child linkages for supplier normalization

1000
New Contracts Per Month
$50
Billion In Spend 140 Countries
10,000+
Vendors Across Multiple Countries
Why GEP SMART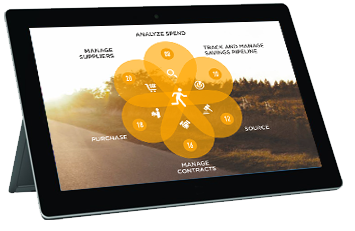 The spend analysis function is designed as an integral part of the larger, unified GEP SMART e-procurement software system with the capability to transform the strategic sourcing and category management process. GEP SMART helps enterprises identify new savings opportunities, curb maverick buying and cut costs substantially — while incorporating real-time market intelligence and insights from GEP's industry-leading strategic sourcing and consulting services. You won't derive this type of tangible value from any other software tool on the market today.
GEP SMART is a dynamic spend analytics system that's constantly learning and improving. Using artificial intelligence and proprietary algorithms, it draws on the insight gathered from a multitude of complex engagements to continually sharpen its output against even the most distinct and atypical taxonomies.
Frequently Asked Questions
While most spend analysis tools can only utilize data from one ERP or AP system, GEP SMART is capable of gathering spend data from multiple source systems and presenting it as a single data set. The data is enriched using thorough cleansing, classification and validation processes, thereby improving its accuracy and enterprise-level spend visibility. Not only does this make it easy for enterprises to find key suppliers, evaluate pricing trends, and identify savings opportunities, it helps identify non-contractual spend and reduce maverick or off-contract purchasing.
GEP SMART's spend analysis capabilities are not exclusive to any one specific taxonomy; customers can select one favored or multiple taxonomy standards, including industry-specific UNSPSC, SIC codes, or any enterprise-specific taxonomy.
Yes — GEP SMART has multilingual capabilities encompassing every major European and Asian language. This means that data from all sources — in any language or currency — can be included to generate complete global spend visibility.
Yes. GEP SMART enables 360-degree, enterprise-wide spend visibility for stakeholders across every business unit or location. This boosts transparency and promotes cross-functional collaboration.
The implementation time for the spend analysis function varies based on the volume and complexity of the raw data as well as the number of source systems.
Yes — you don't have to subscribe to the entire platform. But you also don't have to limit yourself to single-function, "best of breed" applications such as those found in on-premises software. As your business grows, you can grow your GEP SMART capabilities and incorporate additional functions of this unified, source-to-pay procurement platform.
The spend analysis tool provides 360-degree visibility into enterprise-wide spend. There are three reporting options: 1) intuitive customer-specified dashboards that give immediate insight into spend patterns; 2) detailed, pre-defined reports that can be produced according to a schedule or on demand; and 3) an in-depth spend reporting tool that provides for ad-hoc, deep-dive reporting across all aspects of organizational spend.
As frequently as you see fit. You can choose to automate spend data management, and pull up ad-hoc reports and analyze the data as often as you wish. Analysis is largely dependent on the frequency of your refresh cycles. To learn more about the optimal spend data refresh cycles for your enterprise, please contact us.
Yes. You can provide your data to us "as-is". GEP SMART spend analysis software has built-in capabilities for cleansing, consolidation and validation of the raw data. With each data refresh, the cleansing, classification and validation process happens faster as our AI-based system "learns" your data.
No. Users are designated as either "Power" or "Business" users. Power users can create and publish ad-hoc reports, and business users have viewing rights for reports and dashboards. Your subscription includes a defined number of power users and unlimited business users.
The spend cube presents reviewed spend data as a multidimensional cube. Normally, the reviewed dimensions comprise: sub-categories or variants purchased across the enterprise; stakeholders or departments buying the category; and comparative spend for different suppliers.