Impact on the environment isn't the only factor enterprises should consider to become truly sustainable. Any business serious about fully meeting ESG goals must ensure that it is socially responsible as well as a proponent of social equity.
The "social" in ESG includes a variety of people-focused issues such as human rights, labor standards, diversity and inclusion, impact on communities and much more. When considering social responsibility, companies often look at their internal operations or products and services. However, they must also examine their supply chains to address key issues of social sustainability.
An organization's procurement practices can greatly impact people and communities. For example, supplier operations affect the quality of life of employees and their families along with the development of their local communities. Therefore, embedding social considerations within procurement and supply chain practices should be a key consideration within any ESG strategy.
What Socially Responsible Sourcing Means for Procurement Leaders
There are three key ways that procurement leaders can promote social responsibility:
Supplier diversity and inclusion:
This includes increasing spend with, and supporting the development of, suppliers that are owned by those with disadvantaged backgrounds, such as women and minorities. Procurement can assess its strategic suppliers' diversity and inclusion practices and either partner to advance them or elect to work with suppliers that prioritize social sustainability.
Responsible sourcing:
This starts with establishing both a Supplier Code of Conduct and a Responsible Sourcing Policy, which set standards that suppliers must follow. Companies can then monitor and audit their suppliers to ensure they are meeting these standards.
Supplier community impact:
Companies further along on their social sustainability journey can proactively partner with suppliers to create a positive community impact. This may range from building programs that align a supplier's financial growth with social sustainability to supporting community economic development to more philanthropic pursuits, like working with suppliers on educational initiatives or infrastructure projects.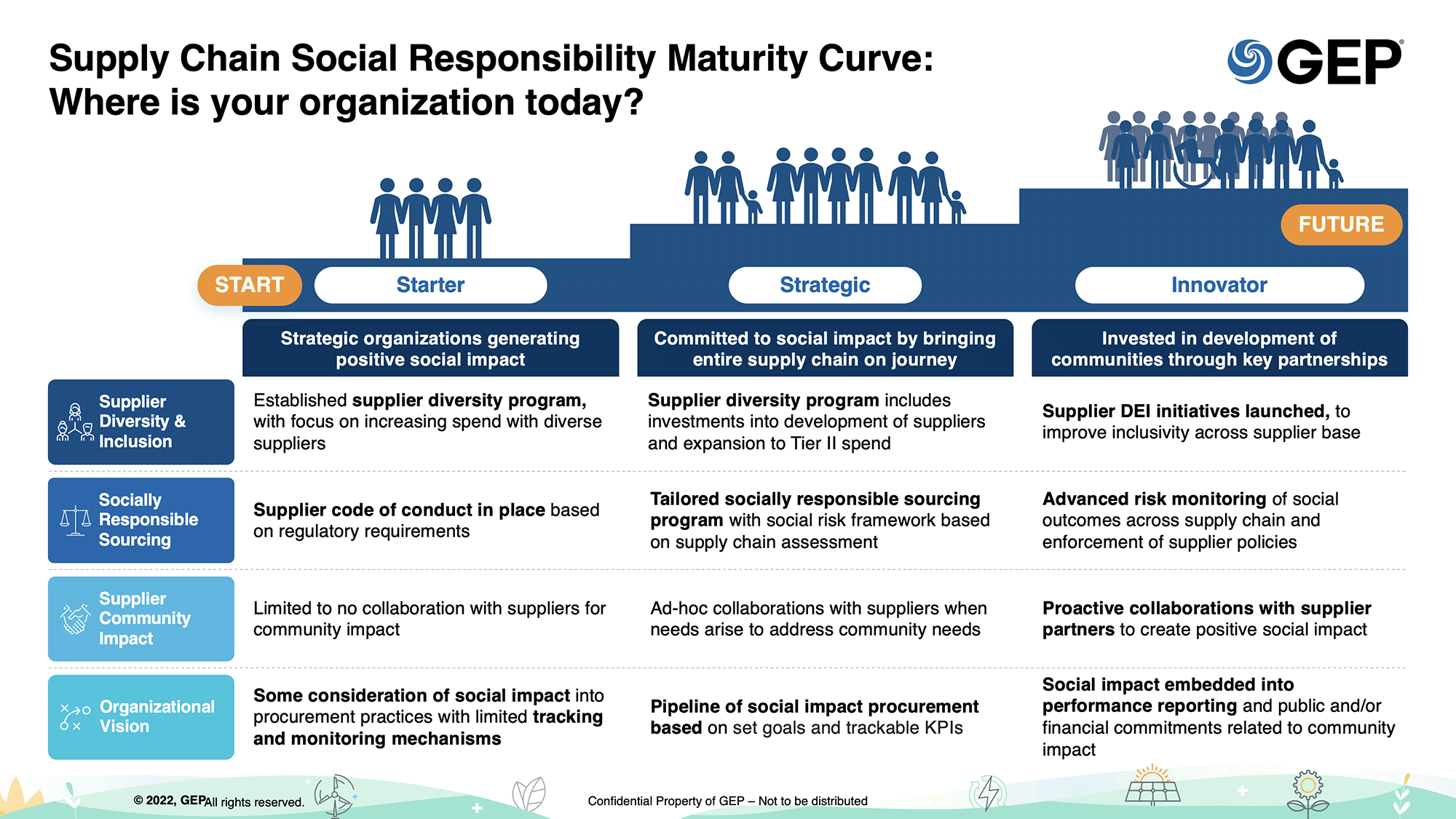 Benefits of Responsible Sourcing
Embedding social responsibility into procurement and supply chain practices is challenging; however, it is critical for businesses, and has many benefits:
Ensures compliance with existing laws as well as increasing regulatory requirements
Fulfills expectations of investors and consumers for ethical business practices and generates positive social impact
Satisfies increasing desire of employees to work for purpose-driven companies
Supports economic development in a company's local community
Provides access to new perspectives, networks, resources and advantages that will improve business outcomes by providing more opportunities to those with disadvantaged backgrounds
Supports the UN Sustainable Development Goals and social equity and advancement
Best-in-class ESG Practices for Brand Recognition and Market Leadership
A global life sciences company partnered with GEP to optimize buying channels and create an eMarketplace to encourage the increased use of diverse suppliers, as well as that of nondiverse suppliers to capture Tier 2 diverse supplier spend, in order to maximize outcome of supplier diversity program
GEP partnered with a global consumer goods company to develop a comprehensive supplier code of conduct and responsible sourcing policy based on the client's ESG requirements and risks as well as industry best practices
A leading waste and water management company partnered with GEP to develop an implementation road map for a supplier diversity program, which included procurement organizational and operational model frameworks, category strategies, technology and tracking/reporting
GEP was selected by one of the world's leading CPG companies to drive a social inclusion initiative within its supplier base, increasing the hiring of employees from underprivileged communities and exceeding the company's target of 500 FTEs