In strategic sourcing programs, negotiating savings is only the starting point. Ineffective contract compliance and utilization can soon cause those nice savings to just … evaporate. GEP SMARTTM  e-procurement software enables seamless linkages and collaboration between procurement, legal, sales and other stakeholders across the contract life cycle — in one intuitive, easily deployed and custom-configurable contract management suite. GEP SMART's top-notch supplier management system ensures that your hard-won, favorable contractual terms always get converted into hard savings.
With GEP SMART, you can author, aggregate and collaborate on contracts in a central repository that supports contract administration as well as tracking and management of performance, savings and compliance.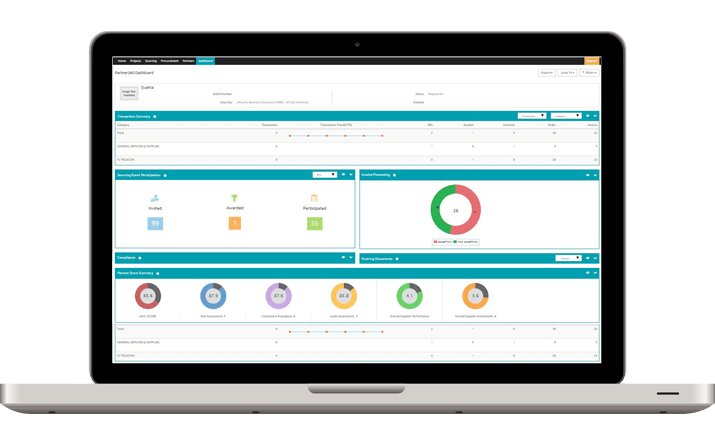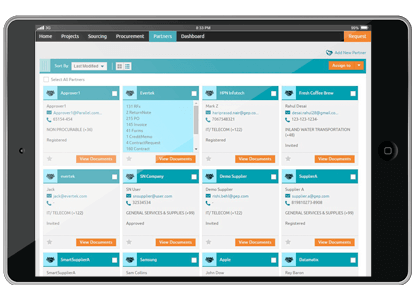 Intelligent
Intuitive
Comprehensive
Mobile
Cloud-native
Best-in-class
Powerful
Game-changing
CONTRACT MANAGEMENT SOFTWARE
GEP SMART's contract management tools provide end-to-end, company-wide contract management capabilities — from initial request all the way through long-term maintenance, monitoring and analysis of performance. Contract data flows easily throughout the contract life cycle — affording smarter, faster work processes, and galvanizing time- and labor-saving innovations, such as automatic document creation.
Collaborative Contract Authoring
Comprehensive contract creation and approval functionality — from collaborative redlining with stakeholders and suppliers to digital signatures — speeds up the contract authoring process
Source-to-Pay Integration
Create contracts directly from supplier offers in any sourcing event. Push the negotiated prices and terms into online catalogs to facilitate easy, compliant purchases and drive more savings
Enterprise-Wide Contract Intelligence
Single procurement data warehouse with intuitive dashboards provides full contract visibility, showing contract utilization and compliance, as well as supplier performance metrics and risk status
Intelligent Contract Repository
With robust, free-text and string search of the centralized, web-based contract warehouse, you can quickly find any contract-related information you need — anytime, anywhere, from any device
Compliance Tracking & Reporting
GEP SMART's integrated reports help you easily monitor contract execution and contract compliance, based on user-defined attributes, to ensure compliance at every stage of the purchasing cycle
Auto Alerts & Event Reminders
GEP SMART's user-configurable auto-alerts trigger action at key points in the contracting life cycle, allowing you to effectively plan contract reviews, renewals, or rebids
Contract Management Automation — Optimize Contract Returns
Negotiating a great contract is painstaking work. But getting the most out of it takes even more work because it requires constant monitoring to check utilization and supplier compliance. When the tracking is done the traditional way, this can be nearly impossible, resulting in wasted effort and missed opportunities.
So, how do you make your hard work bear real fruit? With a contract management platform that simply automates your whole contract management process, providing you with insightful and actionable contract reports.
GEP SMART eContract management does just that, giving you access to enterprise-wide contract intelligence and eliminating the tedious task of searching through volumes of historical records. It gives you unprecedented control of all your contracts across categories and regions, measuring performance, highlighting red flags, and notifying you about renewals well in advance.
Fully integrated, natively built-in contract reporting capabilities and executive dashboards provide 360-degree visibility of contract status across the enterprise. GEP SMART's deep-level analytical reporting tools power through the GEP SMART data warehouse, rapidly organizing and presenting all activity and data pertaining to your key contracts.
Contract Life Cycle Management (CLM) Solutions — Minimize Risk, Maximize Value
Contracts undoubtedly play a crucial role in the success of enterprise procurement programs. But driving greater savings, enhancing compliance and simultaneously shielding the enterprise from supply chain risk is a big ask that can put significant strain on sourcing and purchasing teams. This has led to the development of sophisticated solutions to manage the contract life cycle. Yet many enterprises continue to depend on outdated, highly manual contract management applications — sacrificing the value that modern contract management technology almost always guarantees.
GEP SMART contract management software is tailor-made to manage vital business information, boost contract visibility and give a big boost to risk management. As both a contract repository and a collaborative, secure authoring and contract management workflow solution, it enables the complete management of contract documents throughout their entire life cycle, ensuring you never have to miss opportunities to generate greater value.

Seamlessly migrate contracts from existing ERP or contract management systems

Accelerate contract administration and approval using digital signatures

Microsoft-wordUndertake contract edits and reviews easily with complete Microsoft Word integration

Instantly incorporate terms and conditions with pre-approved clause libraries
Make contract authoring simpler with audit tracking and version control

Get 360-degree enterprise-wide visibility of contract status with executive dashboards

1000
New Contracts Per Month
$50
Billion In Spend 140 Countries
10,000+
Vendors Across Multiple Countries
Why GEP SMART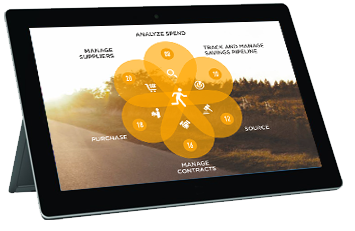 The end-to-end capabilities of GEP SMART incorporate all the advantages of best-of-breed contract management software, simplifying the process of contract initiation, approval, negotiation and management. The result: total absence of process holdups and glitches in the contract pipeline, enabling easier, faster and more effective contract execution and management with improved compliance and better outcomes.
And because our eContract management functionality is natively present in a larger, unified sourcing and procurement software platform, GEP SMART has unique capabilities for helping procurement teams optimize compliance in all parts of the purchasing cycle.
Frequently Asked Questions
Yes. GEP SMART contract management software gives users complete control over the contract management process. This includes contract authoring, sharing and stakeholder review. Contract authoring and creation in GEP SMART is extremely user friendly thanks to Microsoft Word integration, plus the ability to copy existing contracts, add clauses from a clause library, include contract variables, and edit and store any subsequent changes.
Yes. GEP SMART can act as a repository of contracts, past and present. In fact, GEP SMART is an intelligent contract management solution that goes a step further to provide real-time contract status alerts — everything from imminent expiration to renewal. It also updates you about contract performance – highlighting high-performing contracts as well as those that need your attention.
Absolutely. GEP SMART is a unified procurement platform. This means that all its source-to-pay functionality is seamlessly tied together. Hosting auctions, auto flipping of winning bids to contracts, initiation of contract management and supplier management processes – it's all possible on GEP SMART.
GEP SMART's comprehensive tracking and reporting functionalities help improve contract compliance and utilization. This includes purchase order tracking against contracts, and reports on variations in pricing or other factors between the contract and invoice. The platform can also help analyze supplier performance and keep track of delivery turnaround times — contracted versus actual. Spend analysis, strategic sourcing, contract management, supplier management and P2P help in identifying what is being purchased by whom, from which suppliers, and at what price — all while providing insights into whether contracts are actually being utilized by buyers, or not.
Certainly. Our team will help integrate your ERP or contract management system with GEP SMART for migration of existing contracts.
Yes. We can work with you to build a custom-configured interface that automatically captures every contract made on GEP SMART for your ERP system.
Yes. GEP SMART supports contract approval through authorized digital signatures, thereby reducing paperwork, improving process efficiency and speeding up Rfx-to-contract processes.
GEP SMART contract management takes both internal and external stakeholders into consideration to allow collaborative editing, access control, redlining, check-out/check-in, version control, side-by-side comparison, approval routing and attorney reviews. Suppliers also have access to these editing and reviewing functionalities to amend contracts where required. Everything is recorded for full audit trail, with full logging and non-destructive editing.
Contract documents are securely stored on the Microsoft Azure cloud platform in a central repository, accessible anytime, anywhere, on any device. Microsoft Azure — on which GEP SMART is natively built — is an industry-leading cloud platform that safeguards the security of user data. State-of-the-art encryption, cryptography and database infrastructure ensure that your data is always secure, wherever it is hosted or accessed.
As many as you want. The GEP SMART platform imposes no limits on the number of contract documents you can create or store within it.
GEP SMART enables contract owners and other users with valid permissions to add notifications to a contract, and for specific groups of stakeholders to receive these notifications according to milestones reached in the contract. As there is no limit to the number of notifications or the number of people who can receive them, you can allow different groups to receive varying messages at different times. With this flexibility, you can keep the contract at the heart of the supplier relationship and maximize utilization, compliance and realization of the savings the contract is supposed to generate.