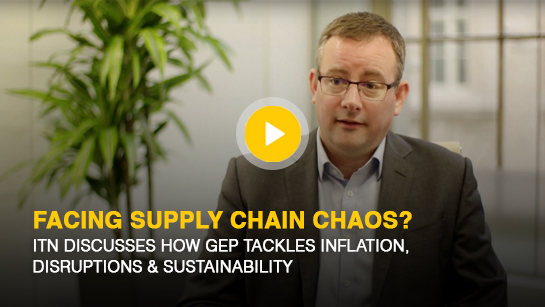 In today's uncertain environment, building a resilient supply chain is crucial. Unforeseen disruptions are becoming more common. This is driving a transformation in supply chain philosophy from "built-to-last" to "built-for-change." GEP is leading the industry with agile, intelligent solutions to support your transformation.
The supply chain technology landscape is evolving rapidly and disrupting supply chains from within. Whether it is driving efficiency in core manufacturing using Industry 4.0 or driving resilience in the extended supply chain using visibility and collaboration, technology interventions deployed correctly offer unprecedented value.
Managing so much change while keeping costs in check can feel daunting. GEP offers a unique value proposition here. With deep expertise across consulting, technology and managed services, we offer unbiased assessment and advice on the right solution for every supply chain challenge. As a result, GEP's supply chain services help you create and manage high-performing, resilient supply chains that drive sustained, profitable growth, even in the face of sudden, dramatic change.
Our consulting services help you chart and implement a clear roadmap for change. Whether your need is to assess and identify gaps, find the perfect solution, or execute and realize the benefits on your bottom line, we are here to guide and support your journey. 
Our managed services help you quickly scale up new capabilities and achieve step-change in efficiencies and improved outcomes across your supply chain operations, from forecasting to inventory management to collaborative supply planning. Rely on our skilled personnel to power your global supply chain operations and drive continuous improvements. 
Our technology platform GEP NEXXE offers end-to-end supply chain planning, visibility, collaboration and execution on a single unified platform. It is a cloud-native platform powered by GEP MINERVA, our proprietary AI technology.
From Assessment to Execution – We're with You
Unlike other supply chain consulting firms that often stop at recommending high-level supply chain strategies, GEP helps you implement and operationalize them for real-world success.
Our team of supply chain management experts starts with a comprehensive assessment of your supply chain, assimilates your business priorities, and then develops robust supply chain strategies capable of rapidly adapting to changing business needs.
Supply chain consulting engagements at GEP are led by seasoned industry, process and subject-matter experts. These experts are supported by world-class infrastructure, and they have a rich knowledge base of supply chain best practices, an expansive global leadership network. and peerless category, commodity, and supply chain market intelligence capabilities.
We follow through by implementing the recommendations using managed services or technology and stay with you until you maximize the potential gains.
END-TO-END, UNIFIED SUPPLY CHAIN SOLUTIONS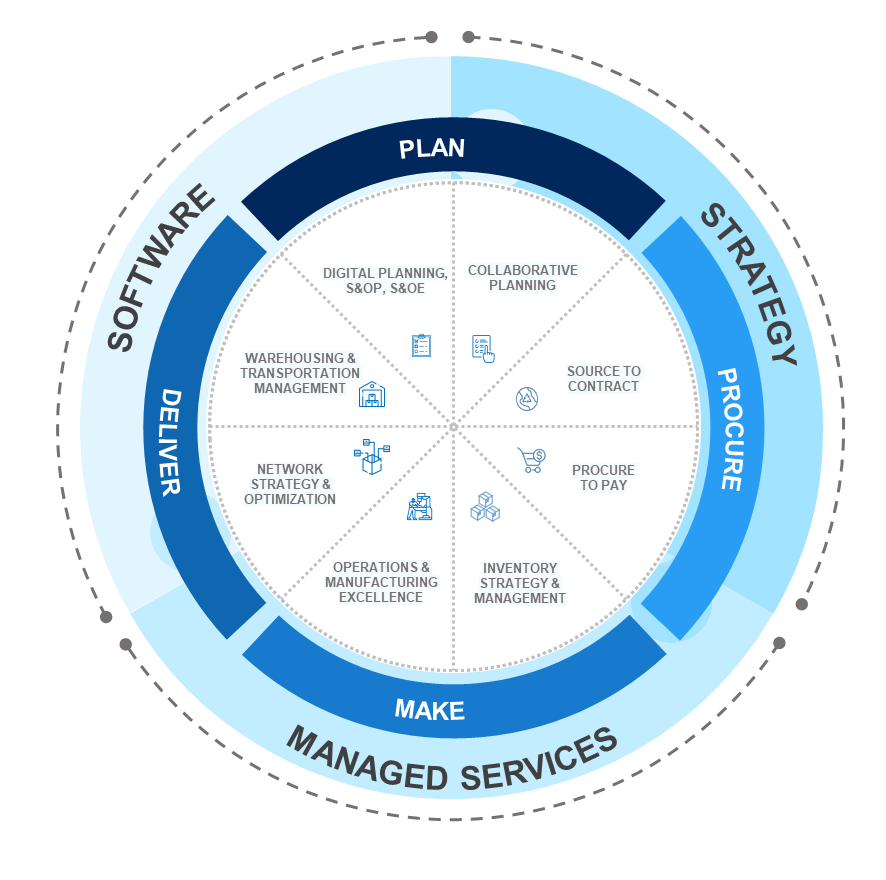 Case Studies
Tier-1 Automotive Parts Manufacturer
Background: The client was experiencing supply shortages in key raw materials, leading to production shutdowns and disruptions as well as an inability to fulfill customer requirements. The COVID-19 pandemic caused demand disruptions and longer than historical lead times for raw materials and component parts, which caused the client to stock-out and short customer orders.
Solution: GEP took an E2E approach to rapidly map the key supply chain processes and substantiated gaps across supply surety, operational effectiveness, planning effectiveness, inventory management, and commercial management that were causing the supply shortages. GEP identified and defined solution opportunities, and the client realized financial and operational business benefits worth $7 million to $12 million in annual value in one sub-business.
Off-Road Automotive Parts Manufacturer
Background: The client was experiencing demand growth along with volatility and supply shortages from the COVID-19 pandemic, causing lack of outlook visibility, fulfillment supportability, and heavy firefighting in the supply chain space.
Solution: GEP partnered with the client to streamline sales order management, supply chain planning, and customer collaboration processes to create better visibility into demand fluctuations and better match with component supply availability. GEP defined and executed strategic and more tactical process, people, technology, and automation solutions, leveraging both internal and external best practices that mitigate the challenges.
RELATED SERVICES
As a global leader in supply chain consulting, GEP helps market-leading enterprises worldwide create and manage agile, resilient supply chains that drive next-level performance and value.