Comprehensive Direct Materials Procurement Technology
Power-Up Your Supply Chain 
With comprehensive BOM management, project management, and master data management capabilities, GEP SMART provides you real-time access to all critical data for timely and effective decision-making. 
Seamlessly integrate all sourcing, procurement and production activities through updated, organized and accurate BOM data. Connect your product design, procurement, supply chain and manufacturing teams on a single platform to get new, innovative products to the market faster. Get real-time visibility of all items on your BOMs – latest specs, inventory, order status, contracts, supplier information, and shipment status – all in one place.  
Project Management 
GEP SMART's project management functionality helps you monitor, report and manage the performance of all your direct materials sourcing and procurement projects. Get a bird's-eye view of all sourcing and procurement activities, using comprehensive, customizable dashboards. Assign tasks to team members, implement cost control measures, set key performance indicators (KPIs), and even save successful projects for future use.
With comprehensive master data management capabilities, including data collection, normalization, error detection and correction, consolidation, data storage and distribution, GEP SMART makes it easy to manage and share your supplier data across the enterprise. No more duplicate or outdated information – get accurate, reliable supplier master data for all your sourcing, procurement, manufacturing activities.  
Achieve More with GEP SMART
Integrate with all major ERP systems to retrieve, synchronize and manage master data
Import bills of materials from multiple systems
Allow suppliers to hand-pick items while bidding and buyers to multi-source awards to a bid
Give item or part-wise detailing for scheduled deliveries
Get transaction network and secure electronic data interchange (EDI) capabilities with virtual asset support for storage, sharing and tracking
Provide what-if capabilities for make-versus-buy and for evaluating substitute materials

Convert winning bids into purchase orders
Enable line-item level visibility to display approved vendor numbers and buyer part numbers
End-to-End Capabilities in One, Unified Platform
Designed for procurement professionals by procurement experts, GEP SMART direct procurement software brings together all critical elements and stakeholders for direct materials procurement – buyers, suppliers, processes and data – in a single, unified platform to enable timely and effective decision-making.
A unified solution designed to streamline all direct materials sourcing, procurement and supply management activities
Enhanced supplier management and collaboration capabilities
Comprehensive BOM management functionality
Real-time visibility of materials status across the supply chain - sourcing, procurement, inventory, work-in-progress
Seamless integration with all leading ERP, MES and PLM systems
Intuitive, collaborative interface that drives adoption, efficiency and compliance
Why GEP SMART Direct Procurement Software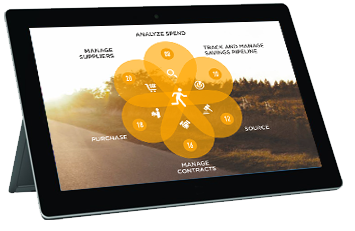 Speed up time-to-market: Seamlessly integrate all your R&D, engineering, sourcing, procurement and supply chain management activities to get more innovative products to the market swiftly.
Optimize sourcing: Get best-value sourcing for your all the items on your BOMs with the latest, up-to-date designs and specifications.
Mitigate supply risks: Get access to real-time, up-to-date supplier data and market intelligence to identify and prevent and mitigate supply disruptions.
Identify cost and value drivers: Scan multi-level bills of materials by product, component or category, with detailed breakdowns to locate principal cost and value drivers.
Manage costs more effectively: Get maximum value for your spend by minimizing contract leakage and ensuring that all purchase orders meet the contract terms and agreements.
Enhance supplier collaboration: Create an ecosystem for rapid innovation through effective collaboration with suppliers throughout the product life cycle.