GEP adopts a holistic approach toward procurement transformation to build a high-performance, digital procurement organization through source-to-pay automation and integration.
We help clients drive greater value from their investments in digital procurement and automation technologies.
This involves implementing a robust procurement support infrastructure, acquiring the necessary resources and tools, reviewing technology requirements and implementing best-fit solutions for our clients.
Unified Procurement Technology Platform
GEP also provides its own end-to-end procurement technology platform — GEP SMART™ — which can be easily integrated with leading ERP and F&A systems, and makes state-of-the-art capabilities available to procurement professionals. 
GEP SMART is a cloud-native, unified source-to-pay platform with comprehensive spend, sourcing and procurement functionality, including spend analysis, contract management, supplier management, procure-to-pay, savings project management and category management.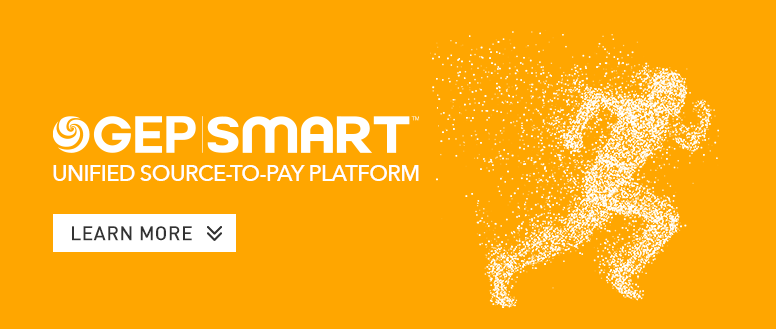 GEP SMART is the first e-procurement software platform that's designed around how sourcing and procurement professionals really work, allowing you to switch fluidly between all related tasks ― be it creating requisitions, hosting sourcing events, authoring new contracts, checking for supplier compliance, or managing invoices and payments. It streamlines all your source-to-pay processes and collates all the relevant information in one place to help you make informed spend management decisions.
With GEP SMART, enterprise procurement teams can: 
Identify opportunities, manage savings, make purchases and payments, all through a unified procurement platform
Boost adoption and drive enterprise-wide compliance with intelligent, intuitive interfaces and user-centric design 
Manage all source-to-pay processes on the go with a mobile-native design ― anytime, anywhere, any device
Enable fluid information, process and workflow to speed up and optimize the end-to-end procurement process
Facilitate greater collaboration and synergy between procurement and finance teams
Standardize field-tested, procurement process management best practices and workflows
Transformation Capabilities