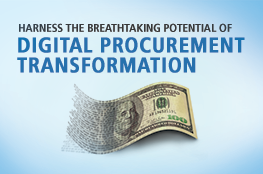 Drive Next-Level Performance and Results
GEP adopts a holistic approach toward procurement transformation to build a high-performance, digital procurement organization through source-to-pay automation and integration.
We help clients drive greater value from their investments in digital procurement and automation technologies.
This involves implementing a robust procurement support infrastructure, acquiring the necessary resources and tools, reviewing technology requirements and implementing best-fit solutions for our clients.
Spend Analytics

Strategic Sourcing

Category Management

Procure-to-Pay
Spend Analytics
To manage spend more effectively, companies need greater understanding of their spend data across functions and business units. GEP helps enterprises achieve greater spend visibility through powerful, AI-based spend analytics tools that cleanse, validate, enrich, classify and report spend data across multiple, disparate systems, generating accurate, actionable information with item-level visibility across the enterprise.
Strategic Sourcing
GEP helps clients streamline and optimize their sourcing operations by leveraging a range of cloud-based, easy-to-use and intuitive sourcing tools. These tools help procurement teams collaborate with colleagues wherever they may be located to evaluate suppliers, author new RFPs and award contracts. Clients can leverage the full potential of supply markets and maximize the value of their spend by increasing competition for their business. 
Category Management
Best-in-class enterprises use a category management approach to drive greater savings and value from their purchases. GEP helps enterprises develop the technological capabilities to streamline all category management activities. From sourcing to contract management, supplier performance and compliance tracking to continuous improvement and innovation, our technology and category experts work with you to drive down the total cost of ownership.
Procure-to-Pay
GEP helps you drive greater efficiency and performance across all your procure-to-pay processes by leveraging cutting-edge procure-to-pay solutions. We help you implement tools that not only eliminate paperwork and cut down cycle times, but also increase spend under management, boost compliance, reduce maverick spend and improve the overall purchasing experience — all while delivering greater time and cost savings.
Unified Procurement Technology Platform
GEP also provides its own end-to-end procurement technology platform — GEP SMART™ — which can be easily integrated with leading ERP and F&A systems, and makes state-of-the-art capabilities available to procurement professionals. 
GEP SMART is a cloud-native, unified source-to-pay platform with comprehensive spend, sourcing and procurement functionality, including spend analysis, contract management, supplier management, procure-to-pay, savings project management and category management.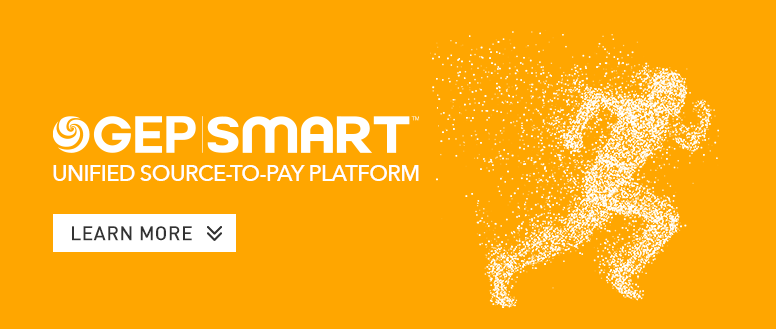 GEP SMART is the first e-procurement software platform that's designed around how sourcing and procurement professionals really work, allowing you to switch fluidly between all related tasks ― be it creating requisitions, hosting sourcing events, authoring new contracts, checking for supplier compliance, or managing invoices and payments. It streamlines all your source-to-pay processes and collates all the relevant information in one place to help you make informed spend management decisions.
With GEP SMART, enterprise procurement teams can: 
Identify opportunities, manage savings, make purchases and payments, all through a unified procurement platform
Boost adoption and drive enterprise-wide compliance with intelligent, intuitive interfaces and user-centric design 
Manage all source-to-pay processes on the go with a mobile-native design ― anytime, anywhere, any device
Enable fluid information, process and workflow to speed up and optimize the end-to-end procurement process
Facilitate greater collaboration and synergy between procurement and finance teams
Standardize field-tested, procurement process management best practices and workflows
Transformation Capabilities