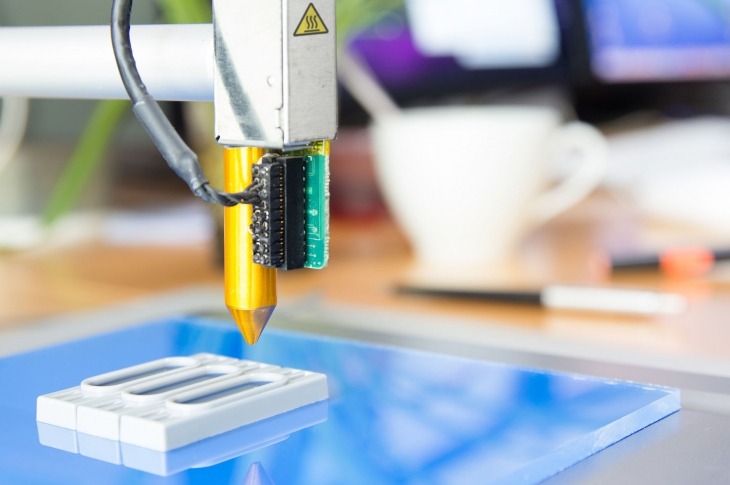 3D Printing — Transforming the Global Manufacturing Industry
Great advancements in 3D printing technology are gradually changing the way manufacturers think about design, prototyping and production. Not so long ago, 3D printers were only deemed suitable for rapid prototyping due to their low printing speed and limited output. However, recent advancements in printing technology, speed and material capabilities are translating into increased adoption of 3D printing technology in several industries including automotive, aerospace, healthcare, fashion and FMCG.
Key Benefits 
The potentials and advantages of 3D printing involve creating reactivity and flexibility on the production line. Also, this technology is a way to innovate quick and effective solutions at different levels of the supply chain. Companies such as Formlabs, Stratasys Ltd. and Markforged are investing in R&D to increase 3D printing production to compete with traditional manufacturing methods in terms of return on investment (ROI). Additionally, a 3D printing-based production line is easier to alter; in traditional production lines, such as injection molding, implementation of changes or improvements take a significant amount of time and effort.
With the increase in production volume capabilities and automation of processes, total production cost is reduced dramatically. As a result, the product is more cost- and time-effective, with less human intervention. 3D printing — being a more flexible technology — enables design teams to experiment with different structural parameters and strengths, and create complex geometric shapes that conventional methods have been incapable of producing. This design flexibility encourages the creation of lightweight and lattice-type structures that reduce the amount of material used. Consolidation of assemblies reduce time, labour, assembly steps and potential points of failure, while digital warehousing minimizes inventory costs.
Industries Impacted
Aerospace and Defense: In the manufacturing industry, aerospace and defense are at the forefront in terms of adopting 3D printing technology. Since 2016, General Electric's leap aircraft engines include 19 3D-printed fuel nozzles that are designed to last five times longer than conventionally made components.
Automotive: 3D printing produces lightweight car components that lead to an overall reduction in a car's weight, which improves its performance and makes it more fuel efficient. For example, General Motors has collaborated with Autodesk to combine generative design software with 3D printing for producing lightweight vehicle parts. Rolls-Royce, BMW and Mini — which constitute the BMW Group — already use 3D-printed vehicle parts to some extent. Rolls-Royce has been making use of 3D printing since 2012, BMW uses 3D-printed parts in its i8 Roadster models, and Mini has recently started offering customized 3D-printed panels and accessories.
Toyota Central R&D Labs Inc. and Materialise NV have developed a 3D-printed design and process to produce lightweight car seats with minimal volume and optimal heat capacity. This resulted in a ~72 percent reduction in volume, corresponding to a reduction in weight from 25 kg to 7 kg. In addition, it reduced the heat capacity from 35.4 J / K to 14.5 J / K.
Healthcare: 3D printing has the potential to significantly impact the healthcare industry. For instance, U.S. hearing aid production moved to 100 percent 3D printing in less than 500 days. The conversion was attributed to the ability of 3D printers to transform a manual, labor-intensive industry into an automated one. The technology has enabled a more patient-centric approach in medicine by offering customization of prosthetics and dentistry, and by enabling bio-printing, where scientists print human-sized bones, cartilage and muscle.
Oil and Gas: In the oil and gas industry, 3D printing is impacting new product development and the capital expenditure related to it. For example, GE has been printing a variety of metal components for use in its oil and gas operations. By using 3D printing technology to develop a new burner for the NovaLT16 gas turbine, GE Oil & Gas reduced its product testing and validation process by half.
Although it is unlikely to replace traditional manufacturing processes, there will be a rapid increase in 3D printing-driven innovations over the next 10-20 years. Through design innovation, commercial 3D printers have become smaller and more portable. Due to a significant reduction in cost, the technology has become affordable and accessible to businesses across many industries. 3D printing will be used in a wide array of applications extending from food to construction. The adoption of this technology in the construction industry is still at a nascent stage; however, industry leaders are optimistic about the future of 3D printing in this industry, supported by substantial R&D activities and innovations. These industries will continue to work toward embracing 3D printing technology as a platform to create new businesses, products and services that will further advance society by creating new sources of global wealth.