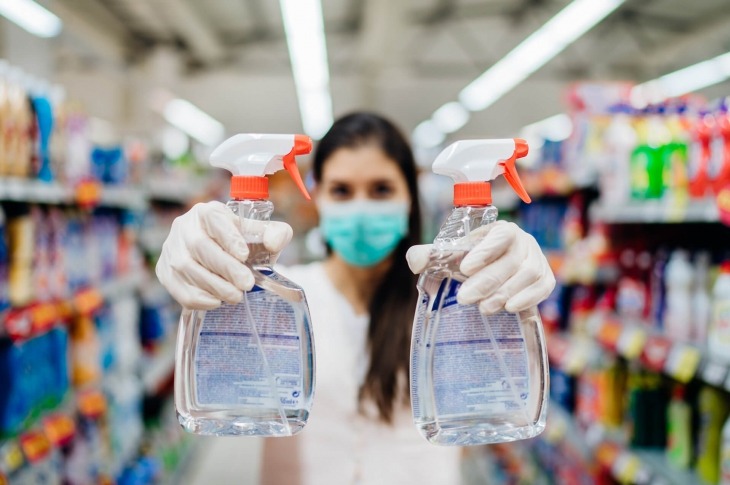 Cleaning Up: Impact of the Coronavirus Crisis on Sanitation Supplies
The novel coronavirus has now spread to more than 137 countries, causing a swell in the sales of hand sanitizers and sanitation products across several international markets since January. The steep increase in demand has led to a supply shortage of several sanitation and cleaning supplies, particularly sanitizers, disinfectants and wipes; this has prompted several suppliers and retailers to markup product prices by as high as 2,000%. The shortfall caused by pre-emptive buying has led global companies turning to small local brands for their supplies and production.
However, the global sanitation supplies market has witnessed a positive trend due to increasing demand in the U.S. and all affected European and Asian countries, with stocks of several sanitation supply companies like Clorox reaching all-time highs during the weeks when other companies were facing major stock-market slumps.
The Current Global Scenario of the Sanitation Market
U.K. hand sanitizer sales saw a 255% year-on-year increase in February 2020, with the British shoppers buying 7% more liquid hand soaps and spending 10% more on household and other cleaners compared to February 2019.
In the U.S., demand for hand sanitizers jumped by 1,400% between December and January and remain on a further upward trend.
Asian consumers have also been stockpiling personal hygiene goods. Sales of hand sanitizers in Malaysia have been 800% higher than average.
Impact of COVID-19 on Hand Sanitizers and Soap
With public health officials and the World Health Organization advising the use of hand sanitizers with 60% alcohol, or an alcohol-based hand rub, and washing hands with soap as a preventive measure, there has been a massive increase in demand for these supplies. To counter supply shortages, WHO has also made a DIY recipe for hand rubs available for free. COVID-19 has also led buyers to stock up on sanitation supplies such as germ-killing gel, spray-on sanitizers, bathroom cleaners, surface cleaning sprays and wipes, and deep cleaning supplies. Sales of aerosol disinfectant products were nearly 100% higher compared to last year while retailers saw increasing pre-order waitlist numbers as shoppers stockpiled supplies in preparation for quarantines.
Demand and Supply Dynamics
The steep increase in demand led to supply shortages for several sanitation and cleaning supplies and prompted several suppliers and retailers to markup product prices by as much as 2,000%. Demand for disinfectants, sanitizers and PPE such as gloves and gowns at manufacturing plants increased. For instance, Coca Cola is providing face masks and hand sanitizers at its manufacturing facilities along with thermal screening. Automakers in the U.S. and China are installing sanitizing stations at assembly lines while factories in China are undergoing intense cleaning and disinfectant processes before reopening. The aviation industry is using comprehensive aircraft disinfection and sanitation processes to prevent the spread of the virus within the aircraft environment. The increase in frequency for cleaning services is impacting the demand for sanitation supplies. Commercial and residential clients alike are increasingly requesting services that involve releasing disinfectants with a fogging machine.
Companies are turning to local suppliers and smaller niche brands for their sanitation supply needs to cope with the shortage. Schools, prisons, transportation systems and other government agencies in the U.S. can source sanitizers produced by New York state prison free of cost. In France, LVMH will use production lines of its perfume and cosmetic brands to produce large quantities of hydroalcoholic gels which will be free to French hospitals. However, as fear spread, panic shoppers stocking up on hand sanitizers, soaps, cleaning wipes and other disinfectant products contributed to low stockpiles.
How Are Buyers Coping With the Sanitizer Supply Shortfall?
Several surges saw suppliers struggling to keep up with the demand. The Environmental Protection Agency released a list of antimicrobial products effective against COVID-19, which included Lysol, Clorox and Purell branded items, putting pressure on their supply. For instance, Costco is grappling with two types of supply chain issues, high demand and earlier factory closures in China, related to the outbreak.
Pre-emptive buying led to inventories drying up. Local Walmarts, Targets, pharmacies and other retailers ran out of stock while the stockpiles of niche manufacturers such as Clean Well went dry months ahead of estimates. Downward pressure on stocks led to several price surges, for instance, packs of Purell bottles on Amazon remained either unavailable or were sold for more than a 2,000% mark-up. The surge in demand for these products propped up shares of suppliers as Clorox (CLX), Procter & Gamble (PG), Colgate-Palmolive (CL) and Kimberly-Clark (KMB) witnessed upward trends.
Key Actions Taken by Companies
To meet the surge in demand, suppliers of sanitation and cleaning supplies are stepping up their production. Purell pumped up production by adding more shifts and having employees work overtime at two Ohio facilities where most of Purell is made. In India, FMCG firms HUL, Godrej and Dabur also raised the supply of personal care and hygiene brands such as hand wash, soaps, hand sanitizers and floor cleaners. Lysol wipes boosted production while its parent, Reckitt Benckiser, assembled a companywide team to ensure buyers have access to cleaning products and information on using them.
Retailers have turned to switching suppliers and looking for alternative suppliers to cope with supply shortages. Richard Galanti, CFO of Costco, said the retailer was working to procure supplies from both existing suppliers and from other sources, where possible, to keep up with demand. Retailers like Costco, Kroger and Rite-Aid have started setting purchase limits on high-demand items to prevent hoarding while they work with suppliers to restock their inventories.
References