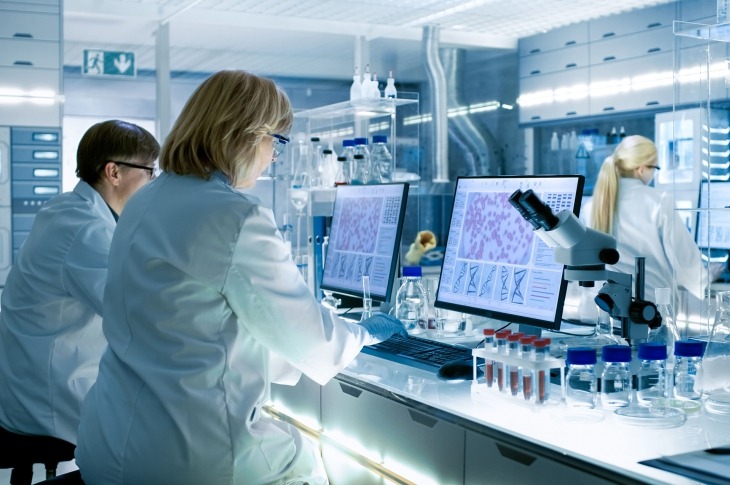 Digitization Makes Inroads Into Laboratory Operations & Management
The laboratory environment has been characterized by ongoing rapid and dramatic innovation since 1980s. By embracing advancements in laboratory automation and secured asset tracking systems, companies are now able to streamline laboratory processes and reduce costs.
There have been quite a few technology/innovation trends observed over the past couple of years. To begin with, smaller lab equipment are preferred more — for example, fluidic components can now integrate multiple laboratory functions into a single "chip," saving bench space, manpower and money. Companies are exploring newer sustainability options. Labs all over the world have started utilizing the new "open labs" concept, which allows researchers to share equipment and resources.
Growing Uptake of New Technologies
There are a few technologies that are increasingly being adopted in laboratories. Artificial intelligence (AI) has been making the laboratory management process faster and more efficient than ever before. For example, PerkinElmer offers a range of easy-to-use core informatics solutions such as the E-Notebook Collaboration Platform and Columbus, which can provide end-to-end laboratory asset management services. Blockchain can securely track lab processes, lab relocation services and streamline the management of lab assets. 3D printing can produce laboratory equipment, equipment replacement parts, instruments, and so on. This leads to greater cost efficiency.
One of the most innovative trends observed in the laboratory chemicals & reagents space is mobile technology solutions and e-commerce. Mobile technology solutions deliver speed, convenience, visibility and cost savings by providing reliable and automated laboratory operational activities, all with remote access. To support the breakthrough innovation needs of R&D, suppliers and pharma companies are jointly exploring online marketplaces/e-commerce. Such marketplaces seamlessly connect buyers with service providers that can accelerate the operations, reduce costs and ultimately deliver more high-quality outputs in lesser time. Most of the leading suppliers such as TFS and VWR are investing in the development of their e-commerce platforms.
Design Innovations Increasing Ease of Handling
Design innovation and use of higher quality material in the laboratory plasticware and glassware market is becoming an increasingly common trend. Design innovations in commonly used laboratory products are facilitating greater efficiency in handling the laboratory testing processes. For example, SciLabware launched wide mouth media-lab bottles made from Pyrex borosilicate glass and featuring a GLS 80 screw thread with a 65mm internal neck diameter. The wide mouth facilitates easy filling and dispensing from the bottle and offers easy access when using spatulas or stirrers.
Companies are trying to overcome issues related to safety, development and identification by introducing novel products offering greater convenience. For example, Schott Group has launched a revolutionary new laboratory bottle system —  YOUTILITY, which addresses critical issues of safe handling and bottle identification through the systematic design of individual components.
Growing Use of Plastic in Labware
Conventionally, glass and steel containers were the only viable options for pharmaceutical labs. This dynamic has now changed, and plastics have become the material of choice for drug development. New types of non-cytotoxic resins that are now being used in plastic labware do not interact with biological life forms, and have extractable and leachable profiles designed for lab use. In many instances, these new state-of-the-art resins are a preferred choice to glass.
New Technological Tools Introduced
A number of technological tools have been introduced recently. Fully automated touch-free ordering and inventory systems enable completely automated lab equipment inventory management and ordering system while ensuring visibility into current asset utilization. This not only helps to reduce the administrative headcount, but also gives better control over the buying process. For example, VSR+ is a web-based warehouse and inventory management system that supports VWR products as well as third-party products from any vendor.
Major service providers have their automated tools that focus on compliance management. The key focus is to provide end-to-end automated qualification, which is supposed to streamline documentation requirements. This includes instrument qualification, software IQ/OQ, operational qualification, etc. The new TFS Chromeleon XTR Laboratory Management system provides data software that surpasses traditional chromatography data systems and is designed to facilitate global compliance with cFDA, USFDA, MHRA, EU and cGXP.
Conclusion
By leveraging digital platforms such as AI, big data and advanced analytics, suppliers are focusing on efficiency improvements, data-driven decision-making and better visualization. The suppliers have proprietary tools that utilize big data and advanced analytics platforms, and strengthen their capabilities in inventory management, asset management, data recording and analytics, online monitoring, planned maintenance, etc.
Sources: