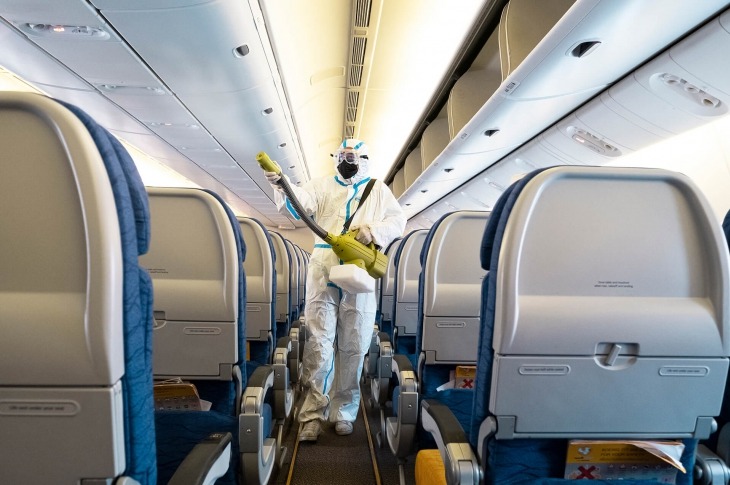 The Impact of COVID on Business Travel: Should Companies Reconsider Travel Contracts and Strategies?
As a result of the coronavirus crisis, the global business travel market is predicted to experience a revenue loss of around $810 billion in 2020. Business travel spending in China is projected to see the biggest loss of $404 billion. In March 2020, businesses spent 46% less on travel and lodging whereas transportation, logistics and fuel spending have also decreased by 58% compared to last year.
Current Impact on Global Business Travel
The rapid spread of COVID-19 and associated government travel restrictions and advisories have had a significantly negative impact on the demand for global air traffic and domestic road traffic. Airlines are continuously making significant capacity reductions, with a plan of pulling back 70% system-wide capacity until demand starts to recover. International operations have experienced the largest reduction, with over 80% of flights reduced over the next few months. To manage the crisis, the industry is taking steps like aggressive schedule reduction, imposing a hiring freeze, introducing a voluntary leave program, reducing discretionary spend and deferring salary increases.
Increased Lead Time of Travel in North America and Asia
Travelers are expected to continue showing travel intent but may not book for upcoming months and would look towards future travel, with increased interest in later this year. Only Australia and New Zealand are showing shorter lead times. The significant reduction in Australia's lead time may be a result of a tourism campaign launched by the government on Feb 26, 2020 which originally aimed at boosting tourism after the wildfires but has been applicable for COVID-19 travel changes as well. Losses faced by the travel industry will intensify if the crisis worsens, leading to a prolonged lockdown. Some cost may be transferred to the consumers at the point of recovery.
Restricted Business Travel
With large businesses instituting a work-from-home policy through the next few weeks or possibly months, such policies have brought about restrictions in business travel. Moreover, the CDC has recommended that travelers avoid all non-essential travel to China, South Korea, Iran, Italy and the USA with a level 3 warning. This has also reduced weekly flight searches for business travel significantly. Thus, the revenue generated by travel industry through business travel is expected to experience a steep fall with further reduction in capacity
Travel Insurances Purchased Post 20 January 2020 Won't Cover Coronavirus-Related Travel Changes and Cancellations
Insurance providers usually assign a specific date to when they consider an event having a foreseeable impact on travel. In regard to the outbreak of coronavirus, this date for insurance providers ranges from 21st to 27th January. Thus, all travel insurance providers are considering the coronavirus outbreak as a foreseen event and are not liable to insure corporations who purchased their tickets after Jan. 20, 2020 against changes and cancellations due to the coronavirus pandemic.
Withdrawal of Travel Guidance Plans by Major Airlines Has Brought About an Increase in Flexible Policies for Travelers
Airlines like Air Canada and American Airlines have pulled back their travel guidance plans that were published for the next two years, owing to uncertainties faced by the global travel industry. The majority of airlines have shown flexibility and have considered cancelling and refunding the tickets of flights scheduled for regions having coronavirus outbreaks. Thus, corporations have been able to redeem most of the money invested in business travel for travel plans until June 2020.
Travel Providers Are Being Proactive to Advise and Guide Customers
In the current scenario, travel providers cannot sustain their businesses owing to the global regulatory restrictions on travel. Thus, companies are increasingly investing in customer service by staying close to customers to advise and guide them through the crisis. Along with refunds for flights cancelled due to travel restrictions, travel providers are providing e-cash that can be used in future against non-refundable tickets. Thus, with flexibility and guidance, consumers will be able to schedule future travel efficiently
Be Prepared for Short-Term, Last-Minute Bookings for Next Few Months
Corporates are expected to rely on last-minute reservations for the next 3 to 4 months, as this would reduce uncertainties about the mid to long-term future. Thus, expect a shift from advance bookings to short-term, last-minute bookings. The practice of making short-term bookings will mitigate the risk of uncertainty and will also bring in cost savings as the travel industry is reluctant to process refunds and cancellations for the bookings made after Jan. 20, 2020 as they consider the situation to be a foreseen condition.
Renegotiating Contracts to Gain Medical and Travel Security for Employees Travelling in 2020
Owing to an increase in concern for medical assistance and travel security for off-site employees, travel partners are introducing new security features in partnership with medical and travel security companies. Renegotiating and including these security features in existing contracts would not only help companies grant medical and travel assurance to their employees, but also ensure that their employees have proper medical or other crisis expertise and support available in case of emergency during their off-site travel in 2020.
Conclusion
To be prepared for foreseen uncertainties, it is imperative that organizations analyze new flexible policies by travel agencies and airlines to strategize their business travel for 2020. Investing in risk-free products and ensuring off-site medical assistance in travel contracts would not only mitigate the risk of losing money but also enable continuous business operations in the future.
Sources