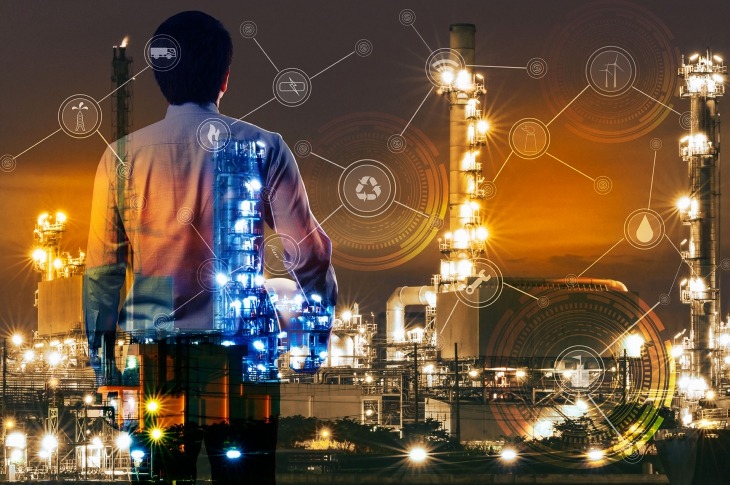 The Internet of Things Is Transforming the Oil and Gas Industry
When digitalization made its initial inroads into the oil and gas industry, it was centered on the adoption of technologies that managed assets and supply chain more efficiently while optimizing processes and costs. Since then, the technological capabilities of the Internet of Things (IoT) — which integrates the advantages of sensing, communications, and analytics — has seen its deployment become imperative in the oil and gas industry to capture, monitor, and analyze every operational area across upstream, midstream, and downstream.
The primary objective of the Internet of Things in the oil and gas industry is to maximize operational efficiency. This can be accomplished by leveraging the real-time data generated by IoT to achieve:
Increased production and oil recovery rates
Innovation in exploration
Fewer incidents — such as product spillage and emissions
Increased employee productivity and safety
Energy and maintenance cost savings
According to an April 2019 report from Swedish IoT market research firm Berg Insight, wireless IoT devices had a global installed base of 1.3 million units in the oil and gas industry in 2018. These devices use sensor-level technology to enable firms to monitor and collect more data to optimize business processes more effectively.
A Few Use Cases of IoT in the Oil and Gas Industry
Leading oil and gas companies regularly feature on lists of the world's largest companies by revenue. The adoption of IoT by these companies is indicative of the power and potential of digital transformation in global business.
Shell
In 2016, Shell deployed an IoT connectivity solution that combined IT automation and instrumentation technologies to collect data from remote oilfields and optimize operational efficiencies. This enabled improved wellhead monitoring and pipeline surveillance capabilities for Shell's remote infrastructure.
In 2018, Shell selected C3 IoT as its artificial intelligence (AI) platform, deployed globally on Microsoft Azure, for a broad set of AI applications — including predictive maintenance for a large base of critical pieces of equipment. Shell has expressed its intent to extend the support of this platform to other use cases based on machine vision, machine learning, and natural language processing in upstream, downstream, and other operations. Through this move, Shell hopes to accelerate digital transformation and enhance the productivity and scope of its advanced analytics capabilities.
ExxonMobil
In February 2019, ExxonMobil partnered with Microsoft to implement cloud-based technologies in its Permian Basin operations. The move is intended to ensure a more efficient operation and improve profit gains by using Microsoft's technologies, including Microsoft Azure, Dynamics 365, Machine Learning, and IoT. The move ensures that ExxonMobil will gain insights into well operations and future drilling prospects, which is expected to increase production of the Permian operations by approximately 50,000 oil-equivalent barrels/day by 2025. Leveraging the power of IoT and the cloud, ExxonMobil hopes to address the concern of monitoring and optimizing widely dispersed field assets and improve capital efficiency.
Chevron
In 2018, Chevron partnered with Microsoft to launch a predictive maintenance solution to address issues in its oil fields and refineries. With the help of Microsoft's IoT services, Chevron aims to create thousands of pieces of sensor-enabled equipment by 2024 to predict the exact time of equipment servicing. By doing so, Chevron can monitor the health of different pieces of equipment and ensure predictive maintenance to secure significant savings.
Saudi Aramco
Saudi Aramco and Honeywell signed a deal in 2017 that was aimed at diversifying the UAE's energy sector and accelerating the advantages of the Industrial Internet of Things (IIoT) within Saudi Aramco's operations through predictive analytics and cloud-based solutions. The development is expected to increase throughput, raise yield and improve the reliability of the company's operations.
Conclusion
To achieve complete digital transformation, oil and gas firms are leveraging IoT to become more hyper-aware and agile. In the oil and gas industry, IoT helps achieve a more effective organizational model, leveraged by technical and cross-functional expertise and a better decision-making paradigm. Furthermore, IoT-enabled operations deploy human capital more efficiently and result in reduced supply/demand distortion.
However, to make the process successful, the application of this framework is required across data, people, and process and devices. A model so dynamic requires a combination of efforts from the standpoint of organizational change management, process change, and technology applications, to be implemented. A majority of oil and gas firms already have considerable experience related to the "things" component of IoT, considering the large number of devices deployed throughout their operations. However, these companies now need to emphasize more the other three aspects of the IoT, i.e., data, people and process, in order to leverage the business and operational benefits and maximize future growth.