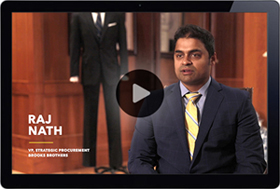 Brooks Brothers, the oldest men's clothier in the United States sought to transform its procurement function to achieve next-level performance and sustainable value. However, limited visibility into the overall procurement process, coupled with a legacy system that was unable to meet the business's new requirements, hindered its efforts toward building a high-performance procurement function.
Learn how procurement experts from GEP partnered with Brooks Brothers' procurement team to understand their challenges and deploy GEP SMARTTM – catalyzing a complete transformation of the procurement function and exceeding management targets.
Watch this video to know how GEP SMART helped Brooks Brothers transform its source-to-pay operations.
"GEP SMART allowed us to identify where the big pockets of spend were and simultaneously share them in a very user-friendly manner with our business partners … having the GEP SMART software really allows us to have confidence as we go into different presentations and discussions about where we can optimize our spend."
– Raj Nath, Vice President - Strategic Procurement, Brooks Brothers