Shrinking budgets and resources make it difficult for many government and nonprofit acquisition to focus on continual operational improvements.
GEP has developed a unique TARI methodology to assess and develop effective change recommendations, specifically for acquisition and procurement operations of government and nonprofit organizations.
The approach deployed is simple and is focused on treading lightly, getting to the root cause of issues, developing meaningful recommendations, and implementing those recommendations to improve the entire procurement and acquisition operation.
Driving the Process
GEP's consultants — with deep expertise and understanding of the working and requirements of government and nonprofit organizations — work closely with the end users to create meaningful and high-impact assessment recommendations, backed by extensive market research and industry benchmarking of procurement and acquisition organizations.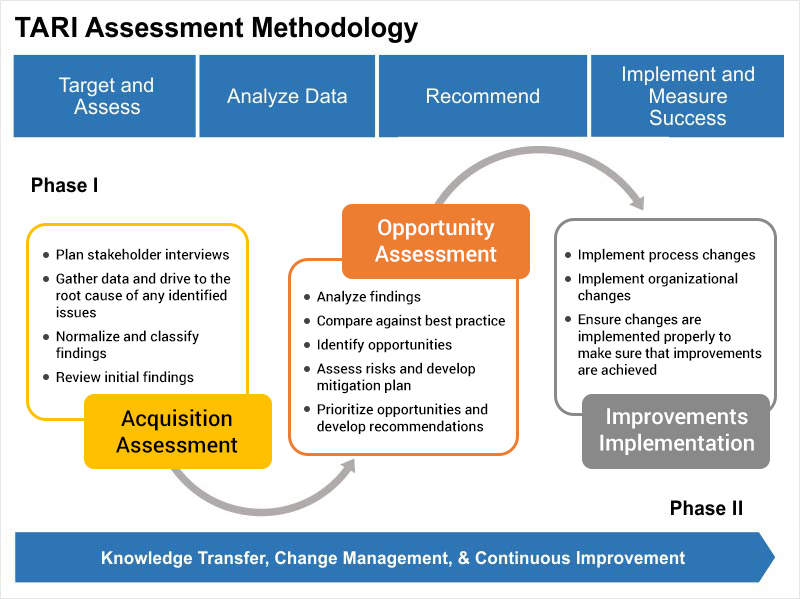 And we believe in client centricity — so all our assessments are customized. No one-size-fits-all approach. So while we bring the best practices from the commercial sector to our government and nonprofit clients, we understand the difference between them and customize our recommendations accordingly.
The result? Our clients get the benefits of proven commercial best practices, without compromising on any of their fundamental commitments and priorities.