Inventory Management Software
Inventory management is the process of managing and tracking inventory or products — including ordering, storing, organizing, selling and delivering — in an enterprise's value chain. An inventory management software automates this tedious process, along with reporting for actionable insights. Advanced digital inventory management systems can meet the requirements of the most complex global supply chains. However, it's not a "one size fits all" solution. Read on.
Challenges in Inventory Management
Low Visibility
Supply chain visibility is critical to the functioning of any enterprise, whether global or regional. Without data-driven insights, manual inventory management systems severely limit the potential of enterprises to overcome demand-supply constraints.
Market Volatility
Market volatility means demand fluctuations. And enterprises that use manual or legacy software systems are unable to respond to uncertainties in time. The end result is that an enterprise will overstock or understock materials, and never the right quantity in line with the trend and demand.
Manual Processes
Some verticals might still be able to carry on with manual systems in niche categories, but with severe limitations and for a limited time period. Beyond that, such businesses would be dragged down almost immediately if they try to scale up with the same old manual systems to manage inventory.
Dead Stock
Items that remain unsold and/or go obsolete become dead stock. And this happens when an enterprise has no record or visibility of the said stock.
Must-Have Inventory Management Software Features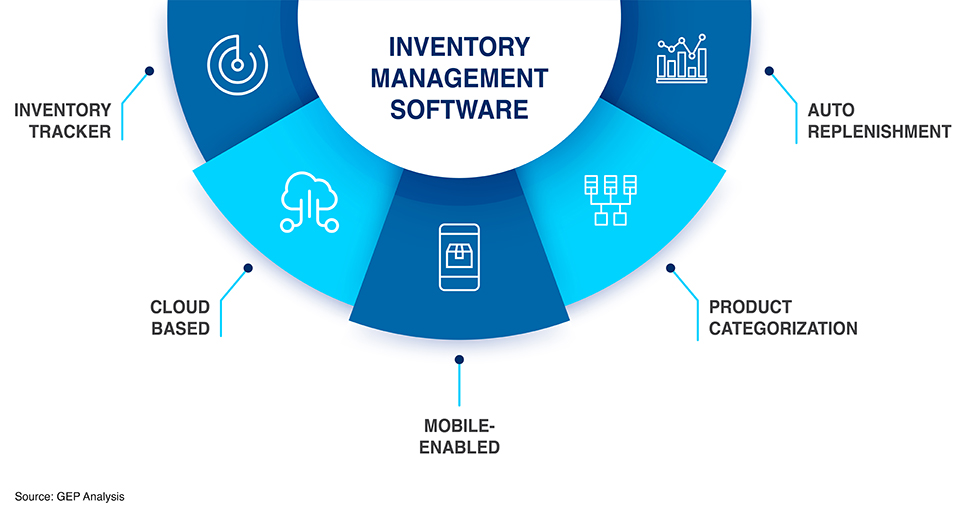 Key Benefits of Advanced Inventory Management Software
Improved order accuracy and ETAs
Improved lot and batch control
Ability to analyze stock demand
Increased supply chain velocity
Ensured customer satisfaction
Actionable insights to help supply chain managers make informed decisions

Importance of Direct Materials Inventory Management for Enterprises
As far as enterprises go, they are mostly concerned with direct materials. Direct materials are the ones that actually go into the manufacturing of products, and therefore a key concern. With an ever-changing, volatile business environment, enterprise require end-to-end visibility of direct materials. Sophisticated AI-driven, cloud-based platforms ensure just that. Wherever the inventory is — on-order, in transit, or in a warehouse — such inventory management software can easily track materials by combining updates from supply chain partners with real-time IoT data, even over mobile devices.
With increasing pressure on global supply chains, enterprises look for solutions that can ensure inventory management activities — such as requisition/replenishment, purchasing, packing, payments, and shipment tracking — can be managed on a single platform. This also ensures the seamless flow of information and data for maximal efficiency.
Must-Have Capabilities in Direct Materials Inventory Management Software
The inventory management software should be able to:
Manage inventory in internal stockrooms or with suppliers
Categorize products (based on expiry dates, usage trends, etc.)
Provide in-context analytics and insights
Audit inventory with cycle counts, periodically or yearly
Create community benchmarks and insights
Generate stock enquiries
Improve order processing
Trigger automatic reorder to prevent stockouts
How Advanced Inventory Management Software Works
Advanced inventory management systems can not only leverage automation and analytics to optimize stock levels, but these systems can also integrate with sensors, barcode/RFID scanners, ERPs to collect inventory data across warehouses, stores, transportation. Item master data and location details enable accurate tracking, while the rules engine applies configurable business logic to monitor KPIs. Furthermore, predictive analytics algorithms and machine learning continually refine the system to stay ready for all possible inventory scenarios. 
Future of Inventory Management Software in Supply Chain Management
Identifying, responding to and processing orders — a sophisticated inventory management software is more than that. Today's data-driven inventory platforms can manage inventory in real time. It can monitor stock levels and supplier performance, and several other important tasks such as sending out restocking alerts, generating smart replenishment orders based on recommended or preset inventory levels. Not just that, the ability of AI-based and IoT-enabled inventory management software to forecast demand enables enterprises to optimize their inventory and minimize costs. Optimizing inventory management is a sure-footed approach to achieving digital maturity, and thereby inching closer to supply chain transformation.