The Russian invasion of Ukraine is adding new troubles to the world's already stressed supply chains. This crisis has resulted in rising oil costs increasing transportation and manufacturing costs. Procurement and supply chains will need to absorb the shock of sanctions on Russia. And the disruption of Russian and Ukrainian exports, including natural gas, precious metals and wheat, will negatively impact enterprises across a variety of sectors.
Enterprises will need to respond quickly to adjust to these supply chain impacts. Identifying risks, developing mitigation strategies and minimizing disruptions are just a few of the serious business challenges to solve right now.
What is your plan to navigate this shifting global market in the face of war-related impacts?
GEP is ready to partner with you.
Equipped with industry-leading expertise and powerful proprietary technology, we are helping companies manage successful procurement and supply chain processes during this unprecedented time.
We have mobilized a task force to offer vital support to enterprises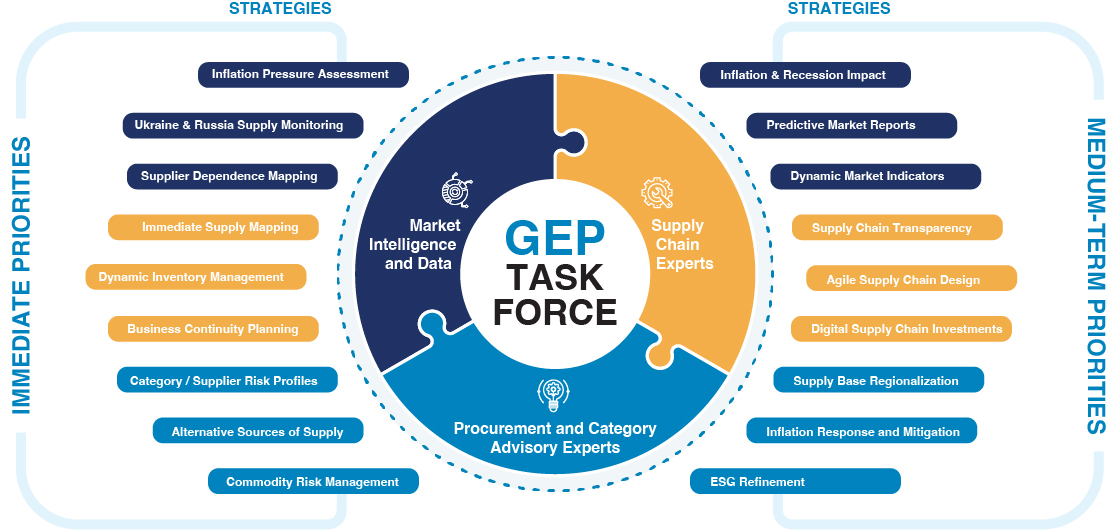 Rapid Response and Partnership Solutions From GEP
GEP possesses a full range of procurement and supply chain solutions to help your enterprise assess, prepare and respond swiftly to the disruption caused by the Russia-Ukraine war:
Prioritize Tier 1 & 2 suppliers linked directly with Ukraine, Russia and Belarus
Supplier segmentation and criticality
Risk and supply alternative
Reconfirm critical orders with suppliers
Manually track shipments and product status
Assess critical supplier situation
Buying desk for spot buy and mitigation efforts
Contracted supply levels confirmation
Force majeure risk areas
Fixed price vs spot reviews
Updated financial cost/budget impact (e.g. aluminum, paper, steel)
Inputs for strategy adjustment / enhancement
Ocean freight/air freight support
Dedicated spot buy desk
Warehousing capacity increase
Review financial hedge positions
Assess inventory and safety stock levels
Mobilize organization processes to monitor and act on black swan disruptions
Travel security strategy and tools
Assess cybersecurity protocols
Business continuity planning with high-risk suppliers
GEP Is Uniquely Positioned To Help
As a global leader in procurement and supply chain transformation, GEP has the expertise and tools to help you mitigate the immediate and evolving implications of the Russia-Ukraine war on your procurement and supply chain operations.
Let's discuss how we can work with you on this, together.