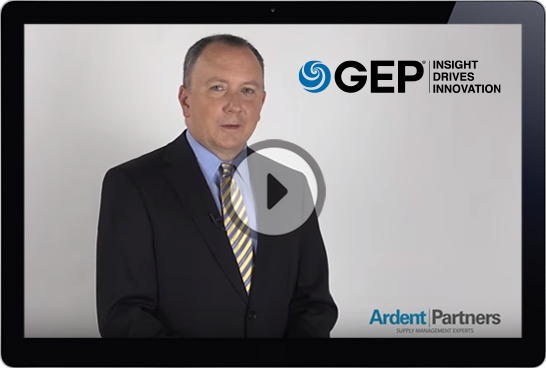 TECHNOLOGY INNOVATIONS IN THE SUPPLY MANAGEMENT MARKET
Andrew Bartolini of Ardent Partners shares the top five strategies to drive effective and faster adoption of procurement technology solutions.
End-to-End Procurement Functionality
GEP SMART's streamlined design, agile architecture and intuitive interfaces result in a sleek, flexible tool precision-engineered to look, feel and perform nimbly for your business. Easy to use, yes. But make no mistake — SMART Source-to-Pay is a powerful solution, with advanced, AI-based analytics and proprietary algorithms that can easily process the heaviest throughput our Fortune 500 and Global 2000 enterprise customers can muster.
Industry agnostic, GEP SMART procurement software is suitable for enterprises across all major industry verticals and companies with the most complex supply chains.   delivering SMART S2P to work with any F&A or back-end ERP system, such as SAP or Oracle.
Optimize Performance, Multiply Savings
Working with SMART Source-to-Pay gives you easy access to a rich, perpetually updated repository of field-tested, best-practice processes and workflows, checklists, scorecards, templates and tools for every purchasing related situation or objective. And it does all this while leveraging cloud economics — infrastructure, maintenance and ongoing operational and software management costs are virtually eliminated.
Slash time, effort and waste from routine tasks across all source-to-pay processes, including managing purchase requisitions, contracts, e-invoicing and data analysis, among others. Streamline and automate spend management. Optimize performance and increase productivity. Boost user adoption, improve customer satisfaction and collaborate more effectively with business partners, such as legal, operations and finance. And cut your total cost of ownership to a fraction of current spend. But don't go by our word, see SMART Source-to-Pay live in action — ask for a demo now.
Unified Procurement Platform
"GEP has built an aesthetically pleasing, fluid-to-navigate and, most importantly, powerhouse full procurement suite that can be implemented into a large enterprise with relative ease as it is a device-agnostic, cloud solution."

Boost Adoption & Happiness — Intuitive, easy-to-use tools flatten the learning curve, increasing adoption and compliance across the business, and sustaining use over the long term; no extensive or expensive retraining required or recommended

Better Economics — Best-in-class, cloud-based procurement management software, with no additional IT infrastructure, integration, personnel, support or maintenance costs, it works seamlessly with every major enterprise resource planning (ERP), and finance and accounting systems including SAP, Oracle, JD Edwards and PeopleSoft to deliver unrivalled speed-to-value

Proven Best Practices — Standardize on procurement process management best-practices and workflows, field-tested across a wide range of industries, customer requirements and use cases that help your procurement team achieve tangible savings faster

Increase Savings — The comprehensive functionality of SMART S2P's sourcing and procurement management software enables realization of significant procurement savings, typically 25 to 40 percent higher. AI-based spend analytics help you get comprehensive spend visibility and identify additional savings opportunities

Keep Pace — Leverage mobile, touch and cloud technologies to boost productivity, responsiveness and savings, and position your procurement team better for continued change and rising expectations

Improve Productivity — Enable your team to work flexibly on any computing device. SMART S2P is an efficient, easy-to-use digital workspace that streamlines and automates the entire purchase-to-pay process, helping procurement and supply managers drive greater savings and performance through a friendly and intuitive purchasing software to procure and manage their enterprise spend

Anywhere, Anytime Access — SMART S2P is procurement system that works on any Internet-enabled device, including PCs, laptops, tablets and smart phones. Work where you want, whenever you want

Type or Swipe on the Go — Optimized for mobile computing, SMART S2P is the first and only comprehensive source-to-pay software platform native to cloud, mobile and touch technologies, allowing you to manage all your procurement processes — from requisitions to payments — anytime, anywhere, from any device

All Functionality Native in One Unified Platform — Fluid information and work flow on one complete sourcing and purchasing software — including spend analysis, savings tracking, sourcing, contract management, supplier information and performance management, purchasing (procure-to-pay), and invoice management

Rich Knowledge Base — Access and use the extensive sourcing and procurement knowledge base of GEP — industry's leading provider of procurement services and software solutions — in field-tested, ready-to-use work and process flows, tools, templates, checklists and scorecards (inclusive of innovations such as category workbenches and three-click RFPs.)

Platform Agnostic — GEP SMART makes it easy to leverage your existing investments and infrastructure, because it works seamlessly with SAP, Oracle, JD Edwards, PeopleSoft and all other major ERP, and finance and accounting systems

Superior Multilingual Capabilities — GEP SMART has extensive multi-lingual capabilities (all major European and Asian languages), now so critical for globally networked businesses and their complex purchase supply chains

Developed for the Cloud — Built entirely on the Microsoft Azure cloud platform, our Software as a Service (SaaS) based procurement management software is designed for fast, economical deployment and worry-free upgrades, without risk of implementation snarls, cost overruns, data security, and technical glitches

Superb Support and Service — GEP has garnered wide recognition as perhaps the most customer-centric procurement software and services firm in the industry, focused on serving sourcing, procurement and supply chain pros
Frequently Asked Questions
Yes. Our GEP SMART e-procurement software is designed to enable seamless ERP integration and also work with any F&A or local accounts payable system. GEP SMART has similar integration capabilities with both, on-premises software as well as cloud-based ERP systems.
Unlike stand-alone or integrated e-procurement solutions, GEP SMART is a unified source-to-pay procurement platform with inbuilt procurement capabilities that enterprises can use to automate every source-to-pay process. With SMART S2P, you can automate your spend analysis, e-sourcing and procure-to-pay processes as well as optimize your supplier/vendor management and category management processes. In addition to these, SMART S2P helps you in monitoring your procurement savings using the in-built savings tracking function.
Yes. Following the implementation of GEP SMART, the supplier on-boarding process is initiated during which EDI connections can be established with suppliers to help them directly connect with the procurement platform. Suppliers without EDI connections can connect to SMART S2P through the supplier portal.
The time required to implement SMART S2P varies from customer to customer. It largely depends on the number of users, geographical locations and the number of functions from the unified source-to-pay platform that the customer wants to enable.
GEP SMART e-procurement software is designed to optimize the user experience and to make navigation through the software highly intuitive. In addition, the sleek, minimalistic interfaces ensure ease of use with minimal or no training. You can read more about GEP SMART's user centric design here.
Yes. GEP SMART has inbuilt multilingual capabilities covering all major European and Asian languages. So now, procurement professionals across different global locations can access and analyze the same data in different languages based on their preference.
GEP SMART is a unified, cloud-native procurement platform and cannot be implemented as on-premises software. GEP SMART is a multi-tenant software system and each customer can use the functions that are right for their organization. In fact, instead of implementation, customers need only have SMART S2P configured for their requirements. Being a cloud-native platform, GEP SMART offers the inherent benefit of being accessible anytime, anywhere and on any device.
As a multi-tenant cloud system, GEP SMART is designed to automate every process of your source-to-pay cycle straight out of the box. In addition, SMART S2P can be configured to accommodate customer-specific requirements and use cases. Our technology experts work with you to understand your business and make the necessary configurations and workflows so that it does just what you want it to do.
Technology and procurement process experts at GEP understand your procurement requirements and work with you until the implementation process of our e-procurement solution is complete. Also, since SMART Source-to-Pay is a cloud-native platform, every system maintenance activity is performed on the cloud with zero downtime for the user. Unlike purchasing a stand-alone, on-premises software and its consequent upgrades, the subscription to GEP SMART comes bundled with the cost of usage, maintenance, upgrades, support and ongoing assistance.
Your data on GEP SMART is probably more secure than the data secured by any behind-the-firewall system because our e-procurement software is built on the Microsoft Azure cloud platform that provides multiple-layers of security. GEP SMART and Microsoft Azure apply state-of-the-art encryption, cryptography and database infrastructure to ensure that your data is safe, even if your device is stolen.