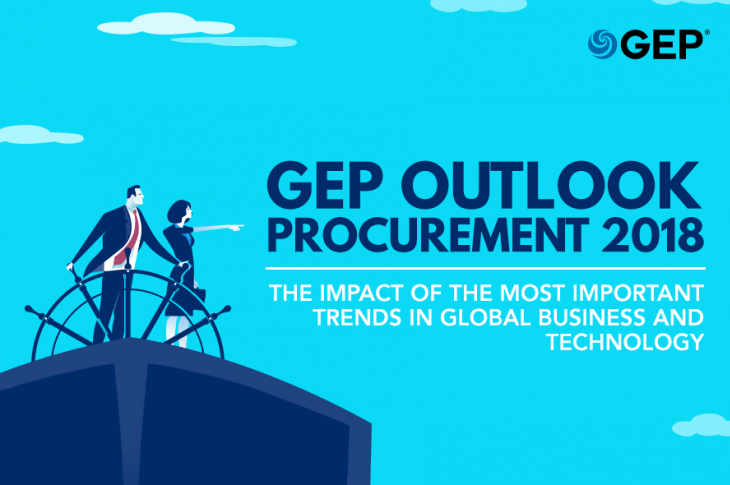 GEP's Procurement Outlook for 2018 — Key Global Business and Technology Trends and Their Implications for Procurement
2018 will see further escalation of the volatility and uncertainty that afflicted the business community during 2017, with the redrawing of the global political and economic landscape.
Despite the big reduction of the U.S. corporate tax rate, protectionist policies of the U.S. and the U.K. will create new barriers to global trade and increase bottom-line costs in 2018. Financial markets will continue to see the fall of the pound against the dollar and euro, arising from Brexit.
China's "Belt & Road" infrastructure investment initiative will continue boosting the emergence of China both regionally and globally. The Middle East and North African conflicts are anticipated to continue into 2018, resulting in ongoing regional supply chain disruption and operational risk across global supply lines.
There will be a cost pressure increase across direct and indirect categories in 2018. Food commodity prices are forecast to hold steady while oil prices are expected to rise, resulting in increased energy costs that will impact most indirect categories.
Another of the significant developments in 2018 will be the accelerated adoption of artificial intelligence (AI) and robotic process automation (RPA) into practical business operations. Discussions around blockchain technologies and their potential applications would become increasingly common within procurement and business leadership.
Developing and executing an effective global operations strategy will require a greater understanding of both the current macroeconomic trends and the impacts of emerging technologies across supply chain and business processes. The GEP Outlook: Procurement 2018 Report brings to you the most telling business and technology trends, and their impact, helping you chalk out the ideal procurement strategy for 2018 and beyond. Read it here.