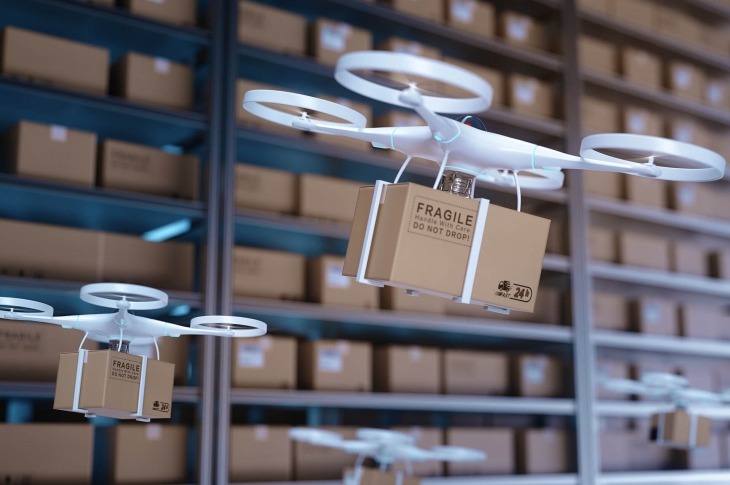 Will Drones Deliver Your Next Package?
In Nov. 2019, UPS conducted its first revenue-generating residential drone deliveries, for CVS Pharmacy in Cary, NC. UPS was able to conduct drone deliveries after obtaining the Standard Part 135 certification from the Federal Aviation Administration (FAA), which permits the flying of drones beyond the line of sight. UPS partnered with drone manufacturer Matternet, whose M2 drone flew autonomously but was monitored by an operator if any intervention was required. However, UPS is not alone in the drone race. FedEx, the long-standing rival of UPS, has partnered with Wing Aviation, a subsidiary of Google's Parent Company, Alphabet and Walgreens — a rival of CVS Pharmacy. FedEx's drone service is expected to carry out pilot deliveries in Christiansburg, Virginia. Other logistics companies are not far behind. Wing Aviation also holds a Part 135 certification with another seven companies in process with becoming certified from the FAA.
Not the Only One
The drone delivery concept is being tested by many players across the world. Zipline, the US-based robotics and drone company, in partnership with the Government of Rwanda, started delivering medical supplies in early 2017. Zipline started with deliveries to twenty hospitals and healthcare centers across Rwanda, which were paid for by the Government and cost almost the same as the motorcycle deliveries that were used previously. With the use of drones, however, delivery times reduced drastically from the hours it took for motorcycles to around 30 minutes for drones. Zipline is expected to provide similar services in Ghana.
Across the globe, major logistics and technology companies that deal with 'same day last-mile' deliveries are working on drone delivery services to improve their businesses. In 2017, Swiss Post partnered with Matternet for pilot deliveries in Zurich and surrounding areas. DHL — which calls its drone Parcelcopter — has conducted successful medical supply deliveries in East Africa. Amazon has been working for a long time on drone delivery under its brand Prime Air, where 86% of its packages are under 5 lbs. (2.3 kgs).
The (Ad)Vantage Point
Drones offer an increased level of automation, which lowers the amount of workforce required and significantly reduces delivery times and the cost per mile of delivery. From the buyer's perspective, the drone delivery system provides huge savings potential. While a typical UPS and FedEx ground delivery may cost anywhere in the range of $6 per mile up to $12 per mile, drone deliveries are estimated to cost 5-6 cents per mile, a hundred-fold reduction. There has been a reducing trend for delivery cost over the past few years and it is expected to go down further as technology develops. Reduced delivery time is another advantage of drones with a typical time of under 30 minutes, with minimal human intervention. However, the drones used in urban applications come with their own set of limitations in terms of range and weight. The flying range of drones is under 6 miles with weight limited to 2 kgs. However, the advent of technology with multiple deliveries, facial recognition delivery, and other applications, is expected to improve the overall delivery experience.
Bought or Loaned?
As the market is still in its nascent stage, commercial models have not been developed. Companies engaged in drone delivery have partnered with logistics partners, which provides them with an existing logistics network, and technology partners, who provide the drones. Currently, there is limited third-party involvement in the drone delivery market, as companies want to wait and watch how the technology develops further. However, technology today is developing faster than ever before, so who knows — maybe a drone will deliver your next package.
Sources and References