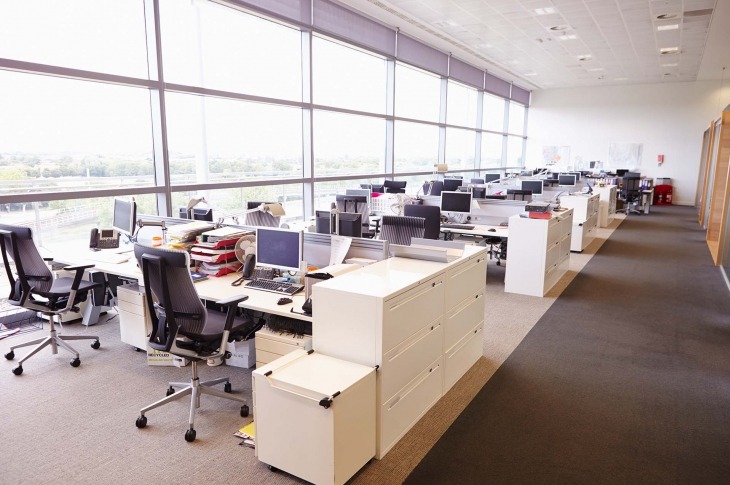 How Will WFH Reshape Office Real Estate in 2021?
Office spaces may continue to stay vacant longer than expected
Tenants can negotiate shorter lease lengths and lower rents
On-demand workplace solutions and flexible ops to become popular
Commercial real estate strategies have changed in the wake of the pandemic, with considerable decline in office space absorption globally amid work-from-home regimes.
In fact, global office vacancy rate is estimated to rise from the pre-pandemic figure of 10.9% in Q4 2019 to 15.6% in Q2 2022, according to a Cushman & Wakefield report. It is not expected to return to pre-pandemic levels before 2025, says the report.
Release of surplus office space
Companies are looking to implement strategies that align with their objectives of space optimization and cost cutting. The plan is to optimally utilize existing space and release space that is under-utilized or not needed.
Companies across the Asia-Pacific region are likely to permanently give up 3-9% of their existing office space, according to a Morgan Stanley estimate. The investment bank projects rents in this region to fall by 10-15% over the next three years.
In the U.S., office vacancy is expected to increase from 13% in Q4 2019 to 17.6% by mid-2022 and headline rents may drop by 9.3%, according to the Cushman & Wakefield report.
Time to reassess office space requirements
As people continue to work from home for an extended period, business leaders have been compelled to reassess their office space requirements.
Is the office space really needed to continue operations? Can business leaders consider flexible, coworking spaces and on-demand solutions in the long term? If they continue working in existing spaces, can they negotiate lower rents and other incentives?
GEP believes this is perhaps just the right time to initiate fresh negotiations. According to the just released GEP Spend Category Outlook 2021, tenants can capitalize this opportunity to negotiate shorter lease lengths, lower rents and increased flexibility and service offerings. They can also include additional elements to lease clauses such as force majeure and rent relief.

In the altered office real estate landscape, conventional lease agreements would give way to flexible arrangements. Tenants may also seek viable exit strategies that offer more flexibility.
At the same time, landlords must ensure they follow all protocols and abide by the new rules and regulations. They may need to invest in additional amenities and technologies to meet client requirements.
Work from home is here to stay
While some large corporations are considering a permanent work from home model, at least for a section of employees who can work remotely, others are considering a hybrid model that involves a mix of virtual and physical spaces. A hybrid model can meet the requirement of employees to meet in person when there is a need.
By eliminating the need to lease a commercial space, the work-from-home model has created a win-win situation for employers and employees. Companies are now reassessing their long-term real estate strategies amid growing concerns of employee health and safety and new workplace regulations.
Most employees are happy to work from home. Among several other benefits, remote work takes travel time and costs out of the equation. People can enjoy flexible work schedules and a healthy work life balance. They can stretch work hours, if required, without having to worry about a frustrating commute and returning home late in the evening.
Still, many corporates rule out the possibility of a permanent work from home. They firmly believe they need to operate from a physical office as they prepare to open in a phased manner and look to work in rotational shifts.
Big real estate deals, such as Brookfield Asset Management buying RMZ Corp's 12.5 million square feet of commercial space in India for $2 billion in October 2020, reiterate the importance of office spaces.
The long-term outlook for office real estate
In the long term, companies are expected to explore different working models and choose a model that can best meet business objectives and cater to the needs of an increasing remote workforce. Chief procurement officers must assess organizational plans and consider the pros and cons of these operating models.
Responsible investments and radical transformation of standard space offerings are now vital to build a healthy and flexible work environment, according to the GEP Spend Category Outlook 2021. On-demand workplace solutions and flexible operations would be increasingly popular in this space.
Considering the health and safety risks, the possibility of employees returning to offices immediately is slim. Office spaces may continue to remain vacant for much longer than expected.
Read and download the GEP Spend Category Outlook 2021 now for insights into real estate and other direct and indirect categories.