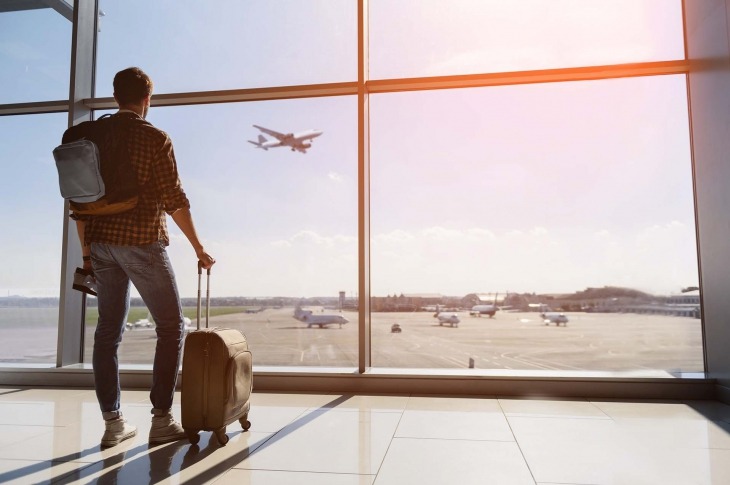 Will the Travel and Hospitality Sector Revive in 2021?
Global health crisis has resulted in massive losses for airline operators and hotels
Work from home and increasing adoption of technology have reduced the need to travel
Can the arrival of vaccines lift traveler sentiment and revive the industry? 
The year 2020 marked an all-time low for the travel and hospitality industry as the pandemic and resulting lockdowns brought travel operations to a halt. The year saw many airlines around the world filing for bankruptcy. A record number of people lost their jobs. What's worse, there are no immediate signs of recovery, with the International Air Transport Association predicting losses of nearly $38 billion for the airline industry in 2021.
As corporations continue to reduce travel expenses and leisure travelers prefer to stay at home, the big question is: How and when will the travel industry fully revive?
New regulation, new requirements
The pandemic may have changed the travel industry forever, according to GEP Category Spend Outlook 2021.
Travel operators who managed to survive the uncertain times now have to deal with a new list of regulations. Among these are passenger health screening, location sharing, onboard social distancing (by leaving the middle seat vacant), PPE kits, contactless kiosks and touchless elevators. In addition to these regulations, operators must be able to meet increased customer expectations, such as more flexibility in booking cancelations.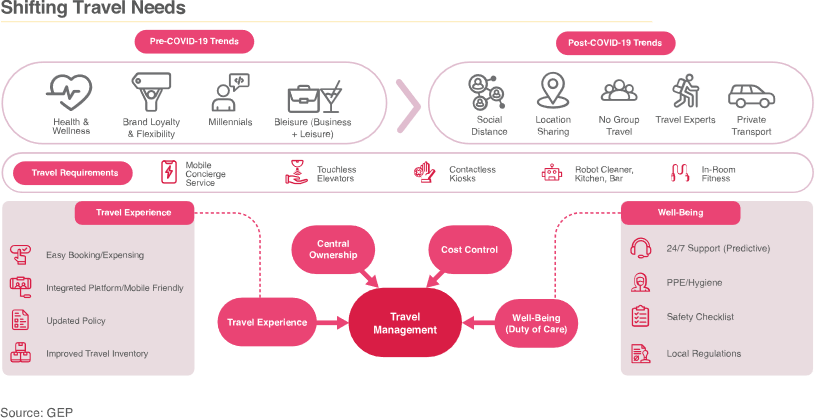 To travel or not to travel?
Several guidelines related to travel and quarantine paint a gloomy picture for the travel and hospitality industry. The introduction of vaccines against COVID-19 has done little to lift the mood of the industry. In many countries, business travelers aren't certain if it is safe to undertake a trip now.
Growing popularity of the work-from-home culture has further compounded problems for the industry by reducing the need to travel frequently. Businesses are increasingly using advanced technology to enable employees to work from the comfort of their homes. After almost a year into the crisis, employees feel most tasks can be done from home, and efficiently too.
The mood of leisure travelers is not very different. Fearing health and safety, many continue to stay home and postpone any travel plans. The constant fear of getting infected with the coronavirus or requiring medical treatment is not likely to encourage any form of leisure travel.
Vacant hotels let go of staff
Like travel, the hospitality industry finds itself in the middle of a storm. Declining travel demand has left a near-permanent impact on the industry. According to a study conducted by the American Hotel & Lodging Association (AHLA) in July 2020, nine in 10 hotels had to lay off or furlough employees.
In a survey of more than 1,200 AHLA members in November 2020, 77% of the respondents suggested the possibility of further layoffs. 47% respondents believed they would have to close their hotels if they do not get further assistance from the government.
Better days ahead?
As vaccine inoculation picks pace globally, carriers hope the worst phase of the crisis is over. However, recovery is likely to take longer than expected. Domestic and international travel segments are expected to recover at different pace. Similar is the case for business and leisure travel.
GEP Category Spend Outlook 2021 does not forecast a revival of the travel sector in the short term. The industry may take several years to return to its pre-pandemic state, the report states. Global passenger traffic is not expected to return to pre-pandemic levels until 2024.
As of now, the industry will have to keep an eye on new regulation and guidelines, quarantine requirements, effectiveness of vaccines and the overall consumer sentiment. Travel operators are likely to offer lucrative discounts to woo passengers.
Companies should look at developing strategic joint venture partnerships with air carriers and seek cost improvements. In case of hospitality, hotel owners would increasingly rely on search engines to engage — and strike a deal — with corporate procurement leaders and business travelers.
For more insights into the travel and hospitality industry and other indirect and direct categories, read and download the GEP Spend Category Outlook 2021 now.