Why Outsource Procurement Activities?
Companies that outsource their procurement function to procurement BPO firms can tap into a pool of experts, which can guide them in matters pertaining to process and policy compliance. They can avail themselves of this collective expertise to improve their efficiency and overall performance.
Taken together, this leads to measurable cost-cutting and tangible savings. While cost reduction is the largest substantiated reason, there are other benefits as well, such as being able to utilize in-house resources for core processes.
Companies have a choice of outsourcing only their non-core spend and non-core processes, as they are less critical to the manufacture and production of final goods. This encompasses the following areas: Marketing, IT, Telecom, Logistics, Transportation, General & Professional Services, MRO, Travel, Packaging, etc.
This indirect spend can equal 20 to 40 percent, or more, of total revenues of a company. However, it is quite often unsupported or under-supported by the procurement department, as developing in-house expertise can be challenging and costly. It is no surprise then that more and more companies are exploring ways to tap into the category expertise of indirect procurement BPO providers like GEP.
What Activities Should Be Considered for Procurement Outsourcing?
While procurement outsourcing has mostly been limited to the transactional purchase-to-pay process, firms can also hand over the complete category management of non-core spend areas to a third party.
The following table lists the most frequently outsourced procurement activities.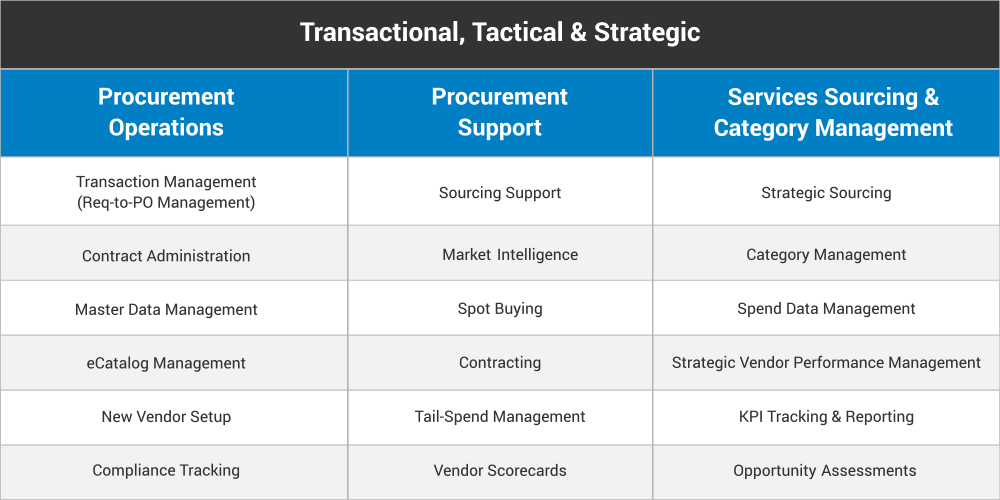 What Are the Real Benefits of Procurement Outsourcing?
GEP's delivery model includes on-site, near-shore and off-shore resources. On-site resources collaborate more closely with clients and stay better connected when leading big sourcing projects or when managing a complete category.
Off-shore resources are effective for routine or transactional activities, sourcing analytics, market research, spot buys and even leading RFPs when client and vendor communications can be managed remotely.
The benefits are immense. As the spend affected is most often quite substantial, procurement outsourcing delivers a very attractive return on investment. Annual returns totaling three to eight times the fees of procurement service providers are typical.
Among the main financial benefits of procurement outsourcing are:
Procurement service providers like GEP bring sourcing and category expertise to areas that are not generally supported by procurement teams, leading to greater spend under management and increased savings. They provide spot buy and tail-spend purchasing support that can deliver additional savings on high-volume / low-dollar contracts.
GEP also provides compliance tracking and reporting services that enable companies to translate savings identified into savings realized, by reducing maverick spend and increasing compliance with preferred vendors.
Lastly, by outsourcing low-dollar or low-value activities, internal procurement teams can focus far more time and effort on large, strategic deals that deliver greater savings.
GEP provides operational cost advantages by building dedicated, highly trained, SLA-driven processing teams. We're also best-placed to take advantage of lower-wage, highly skilled off-shore resource centers, such as Asia and Central Europe. These centralized transaction management teams often deliver higher levels of service at lower costs and also free up internal resources to perform higher-value tasks.
What Are the Other Benefits of Procurement Outsourcing?
Procurement outsourcing also provides other strategic advantages that are equally valuable and compelling, including:
Procurement outsourcing helps firms to quickly ramp up (or down) their procurement teams to match rapidly changing market needs. Some procurement service providers use an on-demand service model, where clients pay only for the resources they need or the services they receive.
Third-party providers can often move more quickly to reduce or replace headcount if demand drops.
Pareto's 80/20 rule is particularly true within procurement, where 20 percent of the total vendor pool often accounts for 70-80 percent of the total spend. The remaining 20 percent of vendors — admittedly less strategic — are frequently not tapped. To be sure, money is left on the table.
GEP is ideally placed to address this tail spend and derive value from it, thus freeing up the in-house client teams to provide support of high strategic importance, as well as visibility, to their internal stakeholders. Otherwise, their attention is often diluted across a vast range of vendors, big and small.
Procurement service providers bring a significant amount of expertise (functional, industry and category) gained from multiple clients, sectors and geographies, which a dedicated enterprise team can find hard to match.
As a result, service providers can deliver highly specific domain expertise across a wide range of categories. They have a deep pool of best practices, market intelligence, price benchmarks, sourcing tools and contracting templates gained from managing billions of dollars of spend for their clients.
If you can't measure it, you can't control it – and you certainly can't fix it. With hundreds of categories and sub-categories, numerous baseline assumptions and savings formulas, limited control of end-user behavior and limited visibility into contract compliance, it is easy to lose hard-earned savings from sourcing efforts by the time goods and services are actually purchased.
GEP provides comprehensive savings and compliance tracking that enables CPOs, CFOs and category managers to track identified potential savings against realized savings at any given time; to see variance drivers and measure non-compliance drivers; and to reduce maverick buying. We offer customized dashboards for client-specific spend categories and procurement processes to provide insightful, relevant and actionable procurement performance tracking.
We use innovative technology and analytical tools to capture spend data from client ERP systems, measure deviation against identified savings and identify root causes for non-compliance (vendor, price, demand, errors).
The reporting is provided via an interactive and customizable procurement dashboard that allows drill-down to non-compliance causes at a category, BU or supplier level and enables timely corrective actions.
With well-structured SLAs and clear performance targets, procurement outsourcing partnerships can lead to improved service levels and greater overall support for business units. Indeed, some organizations adopt a partially outsourced procurement model precisely with the aim of transforming their overall service delivery model and increasing their value-add to the business, often with dramatic results.