Recent developments in artificial intelligence and machine learning have led to the creation of software systems that can automate recurring, rule-based tasks of moderately complex difficulty. Pioneering this progression is Robotic Process Automation (RPA) — a form of process automation technology that can be deployed to perform manual and monotonous tasks in place of human operators.
GEP's expertise in RPA solutions enables enterprises to optimize process efficiency and realize considerable savings by improving accuracy, cutting down operation time, effectively eliminating human error and significantly reducing headcount.
RPA in Procurement
For the procurement function, RPA plays a key role in automating transactional procure-to-pay processes and executing simple bidding transactions by leveraging systemic controls and well-defined business rules, thereby offering significant cost and efficiency benefits.
According to an Everest Group research study, robotic process automation in procurement can reduce costs by 35 to 65 percent for onshore delivery operations and 10 to 30 percent for offshore delivery operations.
RPA the GEP Way — How We Deploy Robotic Process Automation in Procurement
Our five-step method for implementing RPA in procure to pay is highly streamlined, collaborative and causes minimum process disruption, while emphasizing total transparency and visibility.
Using our process assessment framework, we identify viable processes for automation and set up project teams before agreeing on implementation timelines and a suitable approach.
We commence this step by assessing the RPA capability and building a solid business case before agreeing on a solution incorporating automated processes
This involves the actual construction of automated workflows, piloting the RPA solution, and training key resources.
Once the RPA solution has been developed, we run testing cycles to identify and correct any possible defects. Following this, we replicate final processes to institutionalize RPA in procure-to-pay software.
We are committed to a constant evaluation of lessons learned, which allows us to continue building our expertise and developing RPA in procure-to-pay as a center of excellence.
RPA in Action — Use Case for a $200B Oil & Gas Giant
The Client: A Fortune 500 and Global 2000 oil & gas company
The Objective: Optimization of the contract planning process
The Challenges:
Low visibility into contracts due for renewal/amendment

Limited time for contract renewal impacted ability to renegotiate or find new suppliers

Contract expiry without any system prompts — increased unmanaged spend
The Solution: The client was using the GEP SMART unified procurement software. GEP developed the innovative "Contract Planning Bot" and provided this functionality to the client. Client users now get regular notifications about contracts due for renewal, allowing procurement teams a good lead time to look for alternative suppliers that can offer better pricing, or to renegotiate existing contracts. Now, the automated project request forms get flipped into projects to renew or amend contracts — addressing the issue of expiring contracts going unnoticed.
The Results:
Enhanced CLM capabilities

Greater enterprise value being driven by procurement teams

Improved visibility into contract expiry and performance details

Better productivity and efficiency

Reduced chances of non-compliant spending
Engage Your Workforce More Effectively
Current economic indicators are showing that, inexorably, worker productivity is flatlining; in the past 10 years it's just about slowed to a crawl. Email, file sharing, virtual meetings; the "new" technologies that were supposed to accelerate productivity growth have all hit saturation point. The modern workforce is crying out for the next big game-changing innovation to stimulate a new wave of workplace efficiency. Yes, the "productivity plateau" is real — a problem arguably created by technology, and one that, ironically, technology itself will need to solve.
Emerging technologies like RPA could be part of the solution, acting as the catalysts that help us regain productivity in the new digital workplace. Perhaps the most significant RPA procurement use case is reallocation and more optimal utilization of skilled personnel. In the long run, RPA can ensure that employees will have more interesting work and be engaged in higher-value tasks which make more appropriate use of their intelligence and creativity.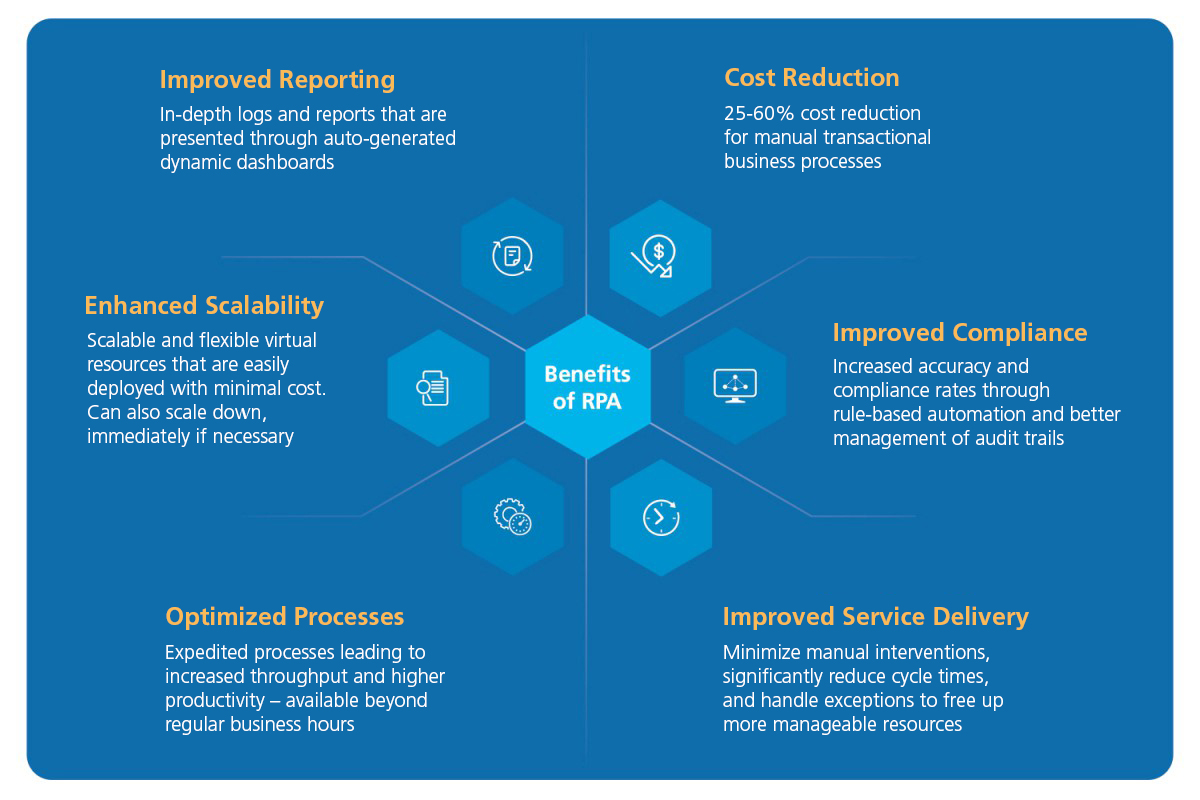 RPA Solutions From GEP — A Great Return on Investment
GEP's RPA offerings can improve efficiency of front-office activity, while easing and redefining the workload of back-office resources.
Tangible efficiency gains can be projected over an investment period as short as one year
Efficiency gains by bots can create more than 200 percent onshore savings versus a mere 10 percent for offshore teams
Bots can be programmed to run 24/7 at a greater level of efficiency without the need to pause or stop, thereby ensuring uninterrupted and consistent performance year after year
Interaction with software and systems can be managed seamlessly
Leveraging centralized hosting, our tools can function in almost any geographic location
Our robotic resources can operate across multiple business units (BUs) and functions
Properly-defined processes guarantee that data will always follow regulatory compliance standards
Minimal human intervention reduces the probability of error
Related Digital Tools and Methods