Recent developments in process automation technology have led to the creation of software systems that can mirror human behavior and perform simple to moderately complex tasks. At the forefront of this evolution is Robotic Process Automation (RPA), a form of process automation technology that can be deployed to perform manual, rules-based and repetitive tasks. It essentially entails the use of artificial intelligence and machine learning capabilities in software to perform monotonous tasks that previously required human intervention.
What is Robotic Process Automation (RPA)?
RPA is the use of technology that enables configuration of a software system, program, application, or bot to perform certain repetitive tasks, such as data alteration, transaction processing and response triggering, in an automated manner.
According to the IPRA (Institute of Robotic Process Automation), RPA is the application of technology that allows employees in a company to configure computer software or a "robot" or 'bot' to capture and interpret existing applications for processing a transaction, manipulating data, triggering responses and communicating with other digital systems.
For the procurement function, RPA plays a key role in automating transactional procure-to-pay processes and executing simple bidding transactions by leveraging systemic controls and well-defined business rules, thereby offering significant cost and efficiency benefits. According to an Everest research study, RPA can reduce cost by 35-65 percent for onshore delivery operations and 10-30 percent for offshore delivery operations.
RPA solutions built into GEP SMART enable organizations to optimize process efficiency and realize considerable savings by improving accuracy, cutting down operation time, effectively eliminating human error and significantly reducing the required headcount.
RPA Can Provide Significant Benefits If the Process Is
Highly manual and repetitive
Rule-based
Standard input type
Prone to human error
Seasonal or with unpredictable volume peaks
In need of out-of-office support
Lacks the business case for wider ERP system changes
How RPA Is Helping Our Clients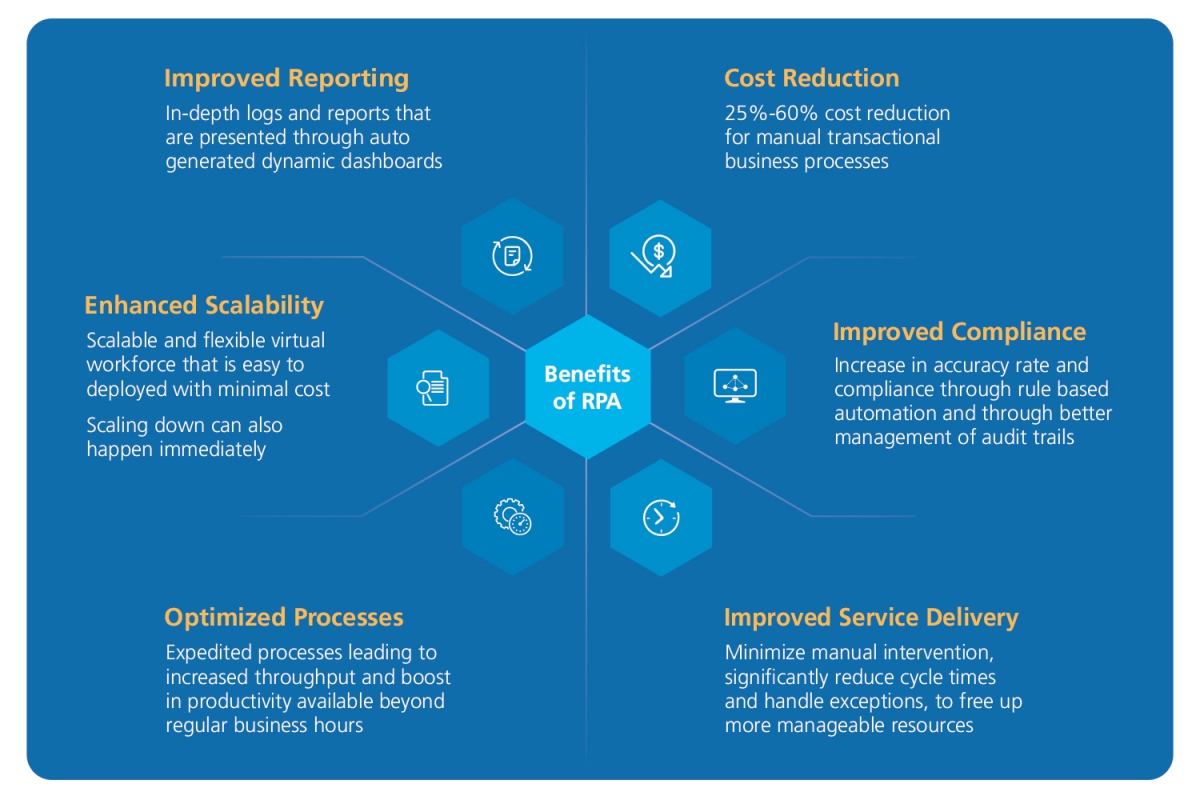 RPA with GEP SMART – A Great Return on Investment
RPA with GEP SMART helps enterprises improve efficiency of front office resources while decreasing the workload of back office resources. The tangible efficiency gains for these resources can be estimated over as less as a one-year investment period. In fact, efficiency improvement by bots can translate into more than 200 percent onshore savings as compared to a mere 10 percent for offshore teams. These bots can be scheduled to operate 24*7 at a higher level of efficiency without the need to pause or stop, thereby ensuring constant and consistent performance year-on-year.
In addition, with logical checks, GEP SMART's robotic tools can report, self-evaluate and automatically generate audit logs and exception reports. It has the capability to integrate with several software and systems to pull data for processing, analyzing and reporting. Cloud-native GEP SMART uses centralized hosting and so our robotic resources can operate in almost any geographic location, across multiple business units and functions.
Also, properly defined processes ensure that your data will always follow regulatory compliance and the reduced human intervention will decrease the probability of an error.
Learn more about robotic process automation (RPA) from GEP. Contact Us Today