Gartner's Top 10 Tech Trends for 2019 And What They Mean For Procurement & Supply Chain
Gartner, Inc. recently unveiled their list of the top 10 strategic technology trends earmarked to have far-reaching impact and application across businesses and industry verticals this year. These technologies have now matured beyond the nascent stage to display real signs of groundbreaking potential, and leading enterprises must consider making inroads soon to stay ahead of the curve. But what do these digital trends spell for procurement and supply chain professionals, and how might they be relevant?
In this blog, we explore these modern technology trends from a procurement and supply chain perspective, to help you envision, plan and enable your transformation journey.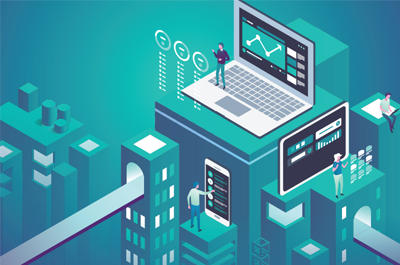 Autonomous Things: Artificial intelligence (AI), Internet of things (IoT) and Robotic Process Automation (RPA) are giving rise to supply chains capable of thinking – and acting – independently. Several manufacturing companies have already started investing in hardware like sensors or connectivity devices, and in software and applications like linked automation systems which could execute shop floor processes as soon as orders are received. In effect, every supply chain process from material management, storage, delivery, invoicing and payment could also follow suit, forming one fully integrated, independent system which will operate autonomously.
Augmented Analytics: Supply chain operatives need access to real-time data to make good decisions. As machine learning, big data and natural language processing (NLP) capabilities enter the thick of the fray, AI-enabled service providers and tools will be widely adopted across manufacturing and distribution to provide predictive analytics, improved planning and more touch-free operations. This will effectively automate the process of data collection, validation, cleansing, modelling and insight generation – aiding better supply chain decision making and helping enterprises bridge the data science skill gap.
AI-Driven Development: AI is changing the software development process through an ecosystem of algorithms and tools that will enable developers to automate and optimize several steps like manual code entry or user testing, eliminating the need for them to possess advanced programming skills. Developers of procurement and supply chain technology will benefit from faster generation of new and improved features/solutions, while application users – in turn – can expect to attain higher levels of utility, flexibility and productivity. AI is also expected to be a core element of all future procurement and supply chain platforms where real-time data processing, analysis and decision-making would be required.
Digital Twins: Simply put, digital twins are computerized versions of tangible objects, systems or processes. This concept has use cases in the manufacturing and MRO (Maintenance, Repair & Operations) space, where things like machine data can be tracked and analyzed in real-time to prevent breakdowns and revenue loss from stalled operations. The concept of digital twins can also be applied to improve procurement and supply chain operations such as demand/supply forecasting and inventory management.
Empowered Edge: The advent of 5G services will accelerate the decentralization of IoT, spawning edge devices (like sensors or AI chips) with local processing power capable of generating and analyzing data without having to connect to the cloud server. These solutions are expected to quickly commercialize across all aspects of manufacturing and supply chain management, automating processes like reordering, inventory control and quality management.
Immersive Experience: Technologies such as Voice Recognition, NLP (Natural Language Processing), AI and Alternate Realities (AR) will create a highly personalized means of interacting with digitally constructed environments. In procurement software, for instance, users browsing for a product or service via a digital catalog using a Virtual Reality (VR) or Augmented Reality (AR) enabled hardware system could now experience lifelike demos before making purchase decisions. On similar lines, an RFP containing technical specifications could be returned as a bid with a design that can be visualized in full VR.
Blockchain: Blockchain technology – heavily touted with the potential of streamlining and disintermediating complex supply chains – will move beyond initial pilot phases to more sophisticated solutions. Industry specific variations will increase and begin to demonstrate the full power of distributed ledger technologies. Some immediate benefits will include smart or tamper-proof contracts, enhanced purchase order management, improved supply chain visibility and real-time settlement.
Smart Spaces: Digital workplaces – a kind of smart space – can create value from insights generated through assets connected across the product lifecycle, manufacturing and supply chain. On the shop floor, "smart factories" allow embedded systems and production facilities to connect and communicate with each other and humans in real time to generate a digital convergence and make decentralized decisions over the internet. Such "smart automation" creates self-governing intra-plant systems, remote maintenance, energy efficient operation and process quality optimization.
Digital Ethics and Privacy: Companies today have a fiduciary obligation to ethically manage data collected from their supply chains. Every stage in the process – from consenting, data acquisition and storage to analysis, sharing and disposal – must be governed by an airtight "code of ethics" and a framework to guide responsible decision-making. Such practices and controls will be vital to preventing information security breaches and cybersecurity risks that can severely damage brands in the digital age. In a digital-first future, digital ethics and privacy will be a key factor in transforming procurement and supply chain processes, choosing applications and solution providers.
Quantum Computing: Quantum computers are capable of processing unprecedented volumes of data –countless times more than conventional computers. This degree of computing power and scalability will mean a giant leap in several industries, solving problems of a complexity too great for traditional algorithms to handle. In logistics and supply chain, quantum computing can be used to boost conventional AI capabilities, realize new levels of optimization and accurately analyze risk, among a host of other things.
To learn more about the key digital technology trends that would impact procurement and supply chain management this year and beyond, get in touch with GEP today.
Gartner's article on the top 10 strategic technology trends for 2019 can be accessed here.
References:
https://hbr.org/2018/06/the-death-of-supply-chain-management
https://www.forbes.com/sites/stevebanker/2018/11/22/digital-twins-support-supply-chain-optimization/#540a8d167bae
https://www.gep.com/white-papers/internet-of-things-reimagining-procurement-new-digital-ecosystem
https://www-935.ibm.com/services/us/gbs/thoughtleadership/empoweringedge/
https://www.gartner.com/smarterwithgartner/what-edge-computing-means-for-infrastructure-and-operations-leaders/
https://www.smartbygep.com/blog/impact-virtual-and-augmented-reality-procurement
https://www.gartner.com/smarterwithgartner/prepare-for-automations-impact-on-application-development/
https://www.gep.com/white-papers/blockchain-in-real-world-promise-and-progress-in-procurement
https://www.smartbygep.com/innovation/emerging-technologies/blockchain-in-procurement
https://www.gep.com/mind/blog/industry-40-and-rise-iot
https://www.accenture.com/in-en/insight-data-ethics
https://www.gigabitmagazine.com/cloud-computing/ibm-announces-giant-leap-towards-commercial-quantum-computing