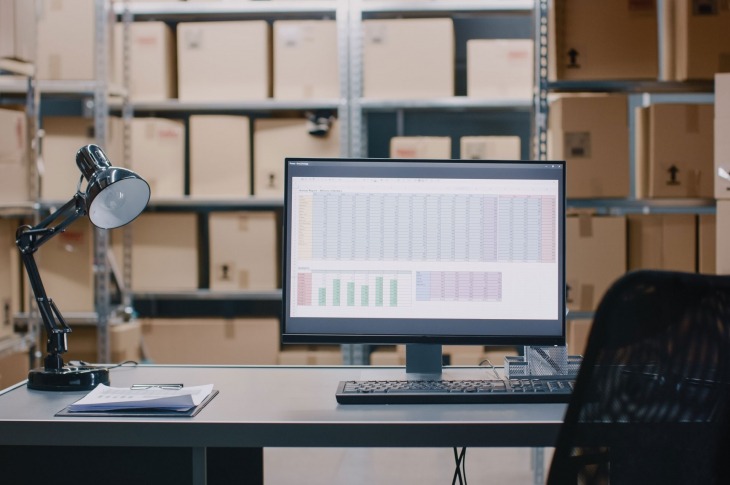 The Inventory Management Software Checklist: 9 Must-Have Features
Whether your business is a Fortune 500 company or a family-run supermarket, inventory management is critical. To be successful, you have to know what items — raw materials and finished goods — you have, where they are stocked, and when they need to be replenished. But if you have the ability to categorize inventory based on product type, analyze your stock list to predict future demand, and gauge the reliability and efficiency of your suppliers, you're giving yourself a greater competitive edge.
Inventory management systems enable businesses to maintain control of and visibility over their inventory through applications that automate cumbersome manual processes, and track and manage inventory levels, orders, sales and deliveries. They prevent stockouts, overstock, delays and wastage; increase the availability of working capital; and improve accuracy, speed and productivity, all of which translate to satisfied customers and greater savings.
As companies grow and expand their market base while the supply chain gets more global and complex, businesses should look carefully for inventory management software that can handle their specific requirements and meet their goals. But while different industries have their own unique needs, there are some features that all organizations must look for in the software they plan to purchase:
Product Categorization
Businesses usually have to track inventory for many products. The supply chain management software software must offer tools that allow products to be categorized and organized using various filters, such as by class or type or SKU, so that they are easily searchable and trackable. The classification would also include product history, stock levels and expiry dates, among other things.
Product Tracking
Companies can use a variety of tracking methods to monitor where materials are located, when shipments come in, and when the final products are shipped. The software must let you manage stock across multiple locations.
Different software systems use different tracking methods, from serial numbers and barcodes to kitting (bundling separate items together where the grouped items are consolidated into one SKU instead of many), lot tracking (tracking several units using the same lot or batch number) and radio-frequency identification (RFID) tags. It is important to choose those inventory management tools that meet your product and sales requirements. For instance, lot tracking is useful for pharma companies in case of recalls, while a system that supports kitting is beneficial for a computer manufacturer selling separate components together.
Re-Stocking Alerts
The software must have a built-in mechanism that alerts procurement teams and/or suppliers once the pre-determined low-stock threshold is crossed so that there are no stockouts. Some systems automatically create purchase orders based on past data and send them for approval once the stock hits a certain level. Others support a Vendor-Managed Inventory system — in which the supplier is responsible for maintaining an agreed inventory of the material at the buyer's location — and notify vendors when stocks fall below minimum inventory levels.
Reporting Tools and Analytics
Your software should not just track and count inventory, it should also be able to analyze data to forecast demand, one of the most critical functions for efficient inventory management. Reports and dashboards will give users insight into what's moving fast, what materials need a long lead time, at what time of the year there is likely to be a surge, etc., in a format that's easy to understand.
Cloud-Based Software With Real-Time Updates
The advantage of software that's native to cloud is its ability to track inventory in real time, which makes it more accurate. A cloud inventory management software can also be accessed on any device, anywhere, anytime, which makes coordination that much easier and decisions that much quicker.
Integration With Other Systems
Most companies will already have other software and/or ERP systems, so it's important that your new inventory management app integrates seamlessly with them. If the different applications cannot sync and exchange data freely and automatically, they won't function optimally, and your company won't be getting the most out of the investment.
Even if you don't plan to integrate all your systems right now, the inventory system you're buying should have the capability. Software integration enables centralization of multiple functions, which cuts down errors and duplication, and enhances visibility, traceability and the overall efficiency of business operations.
User-Friendly Software
A software may offer all the advanced tools and techniques used in inventory management systems, but it will not be effective if it's not easy to navigate and lacks a user-friendly interface. Deploying new software involves change, and if it's unwieldy and inflexible, user adoption will be low. The system you purchase should be simple to handle for the most technically challenged of users.
Data Security
In this age of data theft and hacking, you must be able to trust and have confidence in both the software and the software provider. With cloud applications, your data is not in one place but at different locations, so your software must have enough layers of protection – authentication, access levels, encryption, backups – to ensure that data stays secure, and that in case of data loss, there's backup so the workflow is not completely disrupted.
High Scalability
The inventory management system you purchase must be able to accommodate business expansion and growth. You shouldn't be forced to scout for new supply chain software within a few years because the one your company bought, and the users got comfortable with, is not scalable. So, ensure that the software can make space for more users and more data. Many providers offer software with different levels of upgrades and additional modules, based on changing requirements; this is typically a more affordable option than starting all over again.